ALLCHEM – new series for the chemical industry
The new ALLCHEM-series, which enlarges Allweiler's product range of centrifugal pumps, excels in a favourable price/performance ratio and represents an interesting device for the chemical industry in many respects: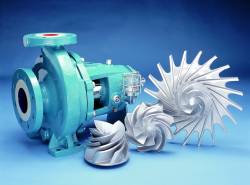 ALLCHEM - new series of Allweiler AG
The aggregates are the result of an international cooperation and have already been successfully in use for years. Allweiler AG integrated the series in its portfolio and supplies the chemical industry in global growth markets on a worldwide basis. It ensures short delivery times and reliability, up to now unattained for the delivery of standard types in this branch: A few days after ordering, the aggregate is ready to be built in and delivered in time.
Up to now, delivery times spanning weeks have been common in this sector. The user himself can select the optimal model and thus the layout design. 40 different sizes guarantee that these quickly available and value for money standard aggregates fit in many applications in an optimal way. If the user needs a special solution, he can fall back on the manufacturer's profound knowhow, who will provide special constructions based on standard versions.
With this concept, the chemical industry receives "standard pumps" as well as special solutions out of one hand. Technically, ALLCHEM also brings new features: an open impeller, an especially bending resistant shaft, as well as high-alloyed steal for housing and impeller guarantee reliability and the best MTBF in these application fields.
The new ALLCHEM-series comprises 40 aggregates reaching pump power outputs up to 1500m3/h, pump heads up to 160 metres, media temperatures from -80ºC and +350ºC and nominal pressures up to 16 bar. All aggregates can be laid out and ordered directly by the user. The pumps can be seen at the ACHEMA (Frankfurt/Main, 19.-24.05.2003) in hall 8.0, booth M42-N47.
For more information on ALLCHEM, contact Edwin Braun: e.braun@allweiler.de.
Allweiler's enlarged product range also comprises ALLCLEAN for the food, the cosmetical and pharmaceutical industry.
Allweiler AG
Allweiler AG is the oldest German pump manufacturer (founded. 1860) and european leader on the market and in technology with centrifugal-, propeller-, screw-, eccentric spiral pumps, and macerators as well as peristaltic pumps. Allweiler AG owns its own foundry and constructs ready for use fuel installations. Since 1998 Allweiler AG is part of the Colfax Pump Group, which is the world wide leader in the manufacturing of pumps.