Albin Hose Pumps Handle Tough Applications
The Albin Pump ALH Hose pump available from The Pump Company can handle the toughest applications, from aggressive to shear sensitive and viscous fluids.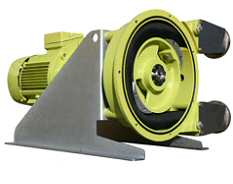 The Pump Company Ltd
Albin hose pumps offer tremendous fluid transfer versatility, ranging from waste stream removal to offering an alternative solution to seal-less gear pumps when handling highly shear sensitive products.
The pumps also offer excellent lift capabilities, high discharge pressures and smooth tubing transfer of material.
The pumping movement is obtained by compression and relaxation of a specially designed elastic hose. The hose is compressed between the internal wall of the pump and the shoes.
The pumped fluid is only in contact with the interior of the hose.
The Albin ALH Hose pump has many advantages, such as:
Damage free dry running
No mechanical seal
Self priming to 9m
Reversible flow
High discharge pressure up to 15 bar
Easy Maintenance because only the hose suffers wear
For abrasive, corrosive, sensitive or viscous fluids
Many stainless steel parts
Geared motor (reinforced bearings) coupled direct to pump body
The Application for this pump are numerous:
Industrial waste water, concrete pumping, waste sludge treatment, Ore slurries and leaching pulp, Flocculant dispersions, Metallic salts, Flocculated waste, Crystallized suspensions, Lime liquor, Black liquor foam, Sludge and slurries, Filterpress applications, Ceramic slips and paste, Cosmetics, Clay suspension and compounds, Pharmaceuticals, Cement slurries etc