Air-Operated Double Diaphragm Pump Range Expanded
The extensive range of Thompson FTI Air-Operated Double Diaphragm pumps (AODD) has recently been expanded with the addition of new larger 3" models. Available in the UK from Michael Smith Engineers these new metallic models (the FT30A and FT30S) are available in stainless steel and aluminium and thanks to a suction and discharge size of 3" x 3" they are capable of delivering flow rates up to 908 lit/min and maximum discharge pressures of 8.3 Bar.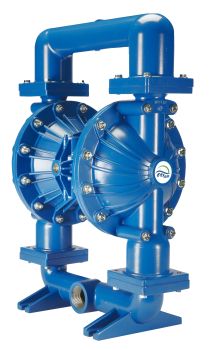 These larger models extend the capabilities of these rugged and reliable pumps and bring the important benefits of using AODD pumps to a wider range of pumping applications. For example they are; simple to install, easy to operate, require less maintenance resulting in lower running costs and are self-priming and can be dry-run. Furthermore, they are suited to handling abrasive, viscous and shear-sensitive liquids and even 'dirty' liquids with particles up to 12mm.
In common with the other models, these new options include a unique lube-free air valve design which contributes towards the philosophy of a simple, rugged and reliable design. This means significantly fewer components compared to other air valves, resulting in reduced servicing time and the associated maintenance costs and downtime. The air valve components include; a low friction slide valve on a ceramic plate to allow for long-life and superior sealing, a moulded Buna gasket which ensures total sealing and eliminates flat gasket tearing. Also, air is used through a slot in the diaphragm shaft to shift the valve, eliminating the need for a separate pilot valve or mechanically operated pilot valve.
In addition, their modular construction results in simplified maintenance with individually replaceable, lower cost wearing parts which do not require special tools for fitting.
Single piece flow assembly procedures means that every pump is built to the highest quality specification and subjected to a three point test for vacuum, leakage and run ability.
FTI Air pumps provide outstanding installation flexibility. For example, while flooded suction is the most common installation, they can also be used in suction lift applications where the pump is installed above the liquid, or even submerged in the liquid.
Thanks to the numerous benefits of using air-operated double diaphragm pumps they are ideally suited to a wide range of pumping applications in many industries such as; chemical manufacturing, mining, paints & coatings, ceramics, pulp & paper, electroplating & anodising and waste water.