Advanced Flow Measurement from Flux Pumps
An eight-page brochure from Flux Pumps describes a liquid meter which sets new standards in precision, versatility and ease of use.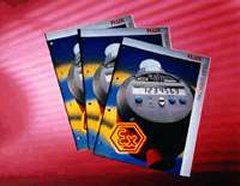 Designed for portable use with barrel pumps or fixed installation into pipework systems, the Flux FM C meter combines accurate measurement with control functions for safe, simple handling. Together with an interface amplifier it operates as a presettable batch controller actuating a magnetic valve or pump.
A 7-digit liquid crystal display allows batch volumes to be preset, and instantaneous flowrate to be indicated, in litres, Imperial gallons or US gallons. The Flux FM C is suited to liquids with viscosities up to 2500mPas (cP). The use of high-quality materials such as PP, ETFE and stainless steel, along with built-in calibration constants for a variety of liquids, allows the meter to be used in a wide range of applications.
All versions are explosion-proof to EEx ia 11C T6. To convert the meter into a batch controller, Flux Pumps offers a choice of amplifiers including an integrally mounted option. Flux can also supply all mounting and interconnection accessories, as well as a quick action tap which can be integrated with the meter.