Adaptable Fibre Gasket Novaform 2300
Frenzelit has developed a new gasket material – novaform 2300 - that combines the advantages of mechanically stable fibre gaskets with those of flexible rubber gaskets.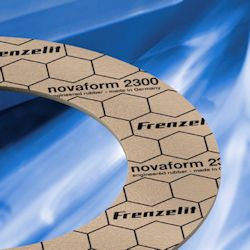 Frenzelit
novaform 2300 is considerably more adaptable than conventional flexible fibre gaskets and almost reaches the level of standard rubber gaskets. The mechanical properties of the new gasket material are substantially better, particularly at raised temperatures. There are no limits to oil resistance even in long-term applications at temperatures between -40° and 130°C. The lower leakage rates than with standard fibre gaskets - at low surface pressure levels too - are another advantage of novaform 2300 . With this exceptional performance profile, novaform 2300 is ideal for use in housings, pumps, gear units, oil sumps and other structural parts with low or inconsistent surface pressure levels.