Abel Expands its South America Business
With the expansion Abel focuses on its original core competence Mining.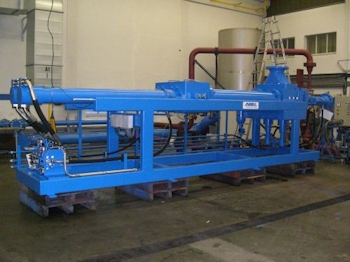 Image: Abel GmbH
Just before Christmas holidays in 2014 two big cone valve solid handling pumps of the SH series left the headquarters.
The destination is a gold and silver mine in the heart of Peru on 4800 meter above sea level. The pumps will be used for the backfilling of tailings. In this procedure fine crushed tailings get mixed to a paste with water and a binder, then this paste gets backfilled in mine cavities by power of Abel SH pumps. This technique facilitates tailings disposal, stabilizes the mine and has a lot more advantages. The capacity per pump is 95 m³/h paste against a pressure of up to 100 bar.
Furthermore Abel also dispatched two large membrane pumps of the HMQ series in December 2014. The destination is also South America, more particularly it is a gold and silver mine in Chile. In this case the pumps will be used for a mine dewatering application.