A Submersible Pump Engineered for Life
High performance, large energy savings and lower running costs. These are the features which distinguish the ZN8 submersible pumps from Lowara, an ITT Industries Group company.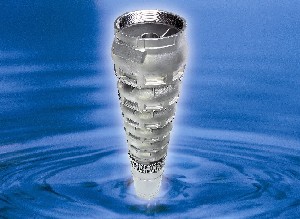 With its innovative construction and performance characteristics, the new ZN8 pumps constitutes a forward thinking solution for all water pumping problems.
With an 8" diameter, flow-rates up to 180 m3/h and heads up to 550 m means that the pumps can be used in aqueducts for supplying drinking water, in water pressurization and distribution installations for civil and industrial use, and in irrigation systems for farms and large green areas such as parks and golf courses. Plus there is even more: they can also be installed in fountains, in pumping systems for fish farms, in water supply systems from deep wells and last but not least, for dewatering in civil engineering and mining installations.
ZN8 pumps are at the very top end of design which guarantees superior performance especially in terms of efficiency and reliability. They assure a maximum efficiency of 80-82% thanks to construction features with a high technological profile: the exclusive use of a dynamic wear ring (to minimize internal losses) on one hand and on the other, the use of precision castings to obtain very smooth surfaces and reduce tolerances to a minimum, thereby contributing to enhanced pump performance.
But the advantages aren't finished here: ZN8 pumps are also better in terms of energy and the associated cost savings. Savings from the energy consumption come from the pumps high efficiency levels: these can be increased even further by combining the new pumps with the Hydrovar variable speed device which can adapt the pump performance to the exact demand of water.
On the other hand, from an economic point of view, the new Lowara pumps have reduced running and maintenance costs both because of the significant energy savings associated with their greater efficiency and because of the use of materials with very high performance in terms of resistance to corrosion and wear.
The main pump components are made of precision-cast AISI 316 stainless steel, a material with high mechanical strength which makes it possible with minimum wall thickness to obtain the same performance as traditional materials. For this reason ZN8 pumps are lighter and therefore easier to transport and especially to install.
The critical components such as the shaft, conical locking sleeve and pump coupling are made of Duplex stainless steel, a material which is highly resistant to corrosion.
Furthermore, abrasion tests have revealed that the ZN8 has a remarkable permitted sand content capability of 100 g/m3, which means greater resistance to wear and therefore performance over time is more stable, longer pump life and minimum maintenance costs.
It should also be considered that, while using high-quality materials such as AISI 316 and Duplex stainless steel, the ZN8 pumps are competitive with traditional cast iron products due to the development of hydraulic design and material thickness optimised by FEA (Finite Element Analysis).
Available in 55, 75, 95 and 125 m3/h versions, the ZN8 Lowara pumps have a large range of performance curves: for every flow-rate it is possible to select the pump with the ideal efficiency which, from 40 to 135 m3/h, is always a minimum of at least 78%. The ZN8 can be combined with 6" and 8" motors, in compliance with NEMA standards, with powers up to 150 kW.
Lowara, with the inclusion of the new ZN8 submersible pumps in its range, confirms its role as a forward thinking company in hydraulic pump design and pumping system solutions. Above all, it confirms its innovative skills in the design and production of technological solutions engineered for life.
Lowara Srl Montecchio Maggiore, Vicenza, which is part of the ITT Industries group, is a leader in the manufacture of hydraulic pumps and water handling and control systems. It has 920 employees in Europe, 715 operating in Italy. In 2003 its consolidated sales totalled about 167 million Euro, or over 189 million Dollars.
ITT Industries, Inc. supplies advanced technology products and services in key markets including: fluid and water management including water treatment; defense communication, opto-electronics, information technology and services; electronic interconnects and switches; and other specialty products. Headquartered in White Plains, NY, the company generated $5.63 billion in 2003 sales and employs approximately 39,000 people around the world. In addition to the New York Stock Exchange, ITT Industries stock is traded on the Midwest, Pacific, Paris and Frankfurt exchanges