A Park That is All About Water
And, what better place could there be for ABS pumps than a water park? Currently there are over 40 ABS pumps installed in Ontario Place for powering waterfalls, recirculating water in rides, and handling waste from kitchens and bathrooms.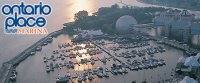 (Source: ABS)
Opened since May 1971, Ontario Place replaced the Ontario Government Building on the Canadian National Exhibition Grounds and has been operated as a summer amusement park and entertainment facility ever since.
Located on the shores of Lake Ontario, the park literally appears to be a scattering of islands, all beautifully landscaped, and just a short distance from downtown Toronto. As a result, almost everything in the park revolves around water—which is a very good thing for ABS Pumps! Currently there is a mixture of ABS pumps installed in the park, mostly AFP's with some Piranha's and Jumbo's. "We look forward to working with ABS Pumps in the future to replace old units, service existing pumps, and taking advantage of the Service Programs."
Ontario Place has many exciting attractions, including the Cinesphere for viewing films, the Molson Amphitheatre for music performances, the Atlantis Pavilions, a grouping of clubs and restaurants, the H.M.S. Haida, a historic naval ship and national historic site, and of course, all the rides, many of which are water oriented.
Two 8 HP pumps are installed at the Cinesphere and are used for sewage. Several pumps serve the Atlantis Pavilions and handle restroom and restaurant waste as well as supply water to the nearby water slides. The H.M.C.S. Haida, once an active destroyer for the Royal Canadian Navy, the Royal Navy, and the Royal Australian Navy between 1937 and 1945, is now a floating museum at the park and has been formally recognized as a Canadian Historic Site. The ship is also a summer residence for the many students that work at the park. ABS has installed four Piranha S10 pumps to handle the waste that is generated.
The fun really begins with the water rides. The Wilderness Adventure Ride, a $10 million flume ride and outdoor stage venue called Waterfall Showplace showcases many ABS pumps. A 60 HP AFP pump feeds water to the spectacular waterfall, while 15 and 20 HP AFP's supply water to jets that compliment the waterfall. But let's not forget the Wilderness Adventure Ride itself; the world's largest fully animated flume ride takes riders through the scenic forests and canyons of 'Northern Ontario'. Many ABS pumps are used to recirculate the water that makes this ride possible.
So what is in the future for ABS and Ontario Place? "Certainly a lot of fun." quotes Jason Goldberg, new Sales Representative in the ABS Canadian regional office. "Ontario Place has been working with ABS for over 20 years and Mr. Joe Tavares, Senior Manager of Maintenance and Construction feels that our product, combined with our service, is exactly what he needs to keep his park, and rides, running."
About ABS
ABS is one of the world´s leading manufacturers of pumps, mixers and aerators, specialising in Water & Wastewater, General Industry, Pulp & Paper and Building Services. The extensive world-wide sales and service companies operate in Europe, North and South America, Africa, Asia and Australia.
ABS is the major part of Cardo Pump which in turn is one of three business areas within Cardo AB, an industrial group listed on the Stockholm stock exchange. Cardo AB had a group turnover in 2001 of more than EUR 1,167 million.