90 Years of Pleuger: Hamburg Pump Manufacturer Briefly Looks Back
Pleuger Industries turns 90. Pleuger's recent repositioning as an independent mechanical engineering company and its continuing expansion provide Pleuger's long-standing workforce with plenty of reasons to celebrate: at the end of June, the Pleuger family celebrates a success story with its new private equity partner, which began in the Golden Twenties of Berlin and is currently being continued at the company's headquarters in Hamburg-Wandsbek.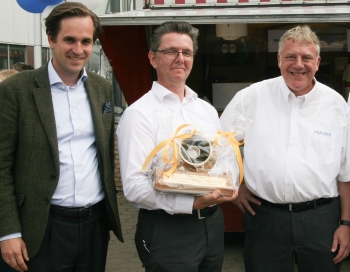 From left to tight: Florian Schmidt, CEO Hermann Sieg GmbH, Andreas Heinrich, Director Supply Chain & Project Management Pleuger Industries GmbH, and Frank-Ulrich Szittke, General Manager Operations Pleuger Industries GmbH. (Image source: Pleuger Industries GmbH)
To this day, Pleuger Industries manufactures its submersible motor pumps, plunger pumps and thrusters in Germany. The local product depth of the company is unique and proves that the label "Made in Germany" maintains a worldwide quality status.
What do Tesafilm, Hansaplast and Pleuger have in common? Over decades, the Hamburg brands developed into general generic terms that are seen as synonyms for entire product categories. When we talk about the Pleuger pump, we mean water-filled motors with multi-stage pumps in today's sense, which are used, among other things, as deep well, cavern and pumping station pumps. Renowned customers in the mining industry such as the Chilean Collahuasi copper mine in the Atacama Desert rely on the original from Hamburg. Whether for pumping industrial process water, separating solids or dewatering open pit mines - Pleuger pumps are regarded as fail-safe machines with low maintenance requirements. For example, the municipal administration of the French metropolis of Montpellier relies on specially developed deep well pumps from the Hamburg pump manufacturer to supply drinking water to 400,000 citizens. The most prominent of all Pleuger pumps is installed in Hamburg's landmark, the Alster Fountain. With a capacity of 216,000 liters per hour, Pleuger's 8-inch underwater motor pump has been pumping water to a height of over 60 meters since 1983. For more than two decades, its improved energy efficiency has helped them operate both economically and ecologically.
The patent on which Pleuger's modern Submersible Pump Units are still based dates back to 1929. Friedrich Wilhelm Pleuger, an engineer from Bonn on the Rhine, developed the glandless motor. This was a groundbreaking alternative to the conventional borehole shaft pumps and piston pumps. For the first time, the water-filled engine made it possible to pump water from great depths and particularly narrow wells. The most important novelty was a liquid-proof, wet insulation of the stator winding, which enabled the motor to be coupled vertically in the intake area below the pump. The patent on the glandless pump formed the basis for Pleuger's later success. First used in the construction of the Berlin subway in the prosperous 1920s, the submersible motor pump helped to bring the Hamburg company to worldwide success by the end of the 1970s. Since then, pumps from Wandsbek have been used for municipal water supply, flood protection, mining, offshore wind farms and oil rigs. Thousands of ships and platforms worldwide are equipped with Pleuger technologies in the form of pumps or ship maneuvering systems.
Pleuger was recently part of the American Flowserve Group, but Flacks Group, a private equity company, bought Pleuger out of the US parent company in 2018. Since then, management of the traditional German company has been operating from its attractive headquarters in the heart of Hamburg's Wandsbek district. Pumps and pump motors are still manufactured there today, from the planning sketch to the last screw. Such a depth of production is atypical for the Hanseatic city and underwater motor pumps "Made in Germany" continue to be in great demand. The demand for modern pump solutions in US industries created a need for us to set up a subsidiary in the USA. Pleuger owes this success to its employees, whose loyalty to the company keeps the expertise within the company