$61 Billion Flow Control and Treatment Market in 2016 in the Energy Sector
The power, refining and oil and gas industries will combine to purchase pumps, valves, instrumentation, filters, clarifiers, separators scrubbers, dust collectors and other air and liquid treatment equipment totalling $61 billion in 2013.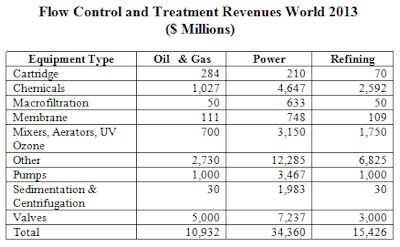 Flow Control and Treatment Revenues World 2013 ($ Millions) (Image: McIlvaine)
This is the conclusion in Air/Gas/Water/Fluid Treatment & Control: World Markets published by the McIlvaine Company.
Purchases of flow control and treatment equipment will rise significantly in the U.S. due to the activity in non-conventional fuels. Extraction of gas and oil through hydraulic fracturing involves substantial amounts of water as well as fuels. New regulations impacting the release of gases during completion will boost air treatment revenues.
Refineries are being upgraded to produce higher quality lower polluting fuels. In the U.S. investments are being made to handle the liquids generated from the non-conventional gas extraction. The processing of oil sands in Canada will require substantial new treatment and flow investments.
In the power sector, the biggest markets will be in Asia where an ambitious program to expand electricity generation through construction of coal-fired power plants will continue. Many of these power plants will use treated municipal wastewater or reclaimed water from other sources. The use of scrubbers to capture the SO2 from these plants results in substantial movement of slurries and investment in air pollution control equipment.
This forecast includes air pollution control, water pollution control, processing of liquid fuels such as chemicals, and any application where the movement or control of air, gases, liquids or fluids or the treatment of these substances is involved.