Y-valves for Thermal Oil Systems
KSB launched new bellows-type steel globe valves and strainers especially geared to industrial heat transfer systems.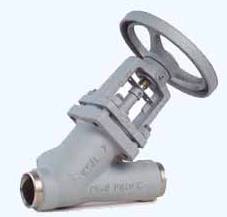 The new NORI-40 bellows-type valves and strainers for industrial heat transfer systems (Photo: NORI 40 ZYSB from KSB)
The optimized flow path of the cast Y-pattern bodies makes for excellent zeta values and low pressure losses across the valves. These properties, in turn, contribute to improving the energy efficiency of heat transfer systems.
The double-walled bellows welded to the yoke / bonnet assembly together with the back-up gland packing and the fully confined bonnet gasket ensure reliable sealing to atmosphere and leakage-free operation.
All NORI 40 valves are standard equipped with position indicator, locking device and travel stop, allowing comfort-able valve operation. As every valve up to size DN 100 features a standard throttling plug, the same valve type can be used for both shut-off and throttling functions, reducing costs for spare parts and stock keeping.
The bodies used for the strainers are the same as those used for the valves. Both are provided with drain plugs as standard. An optional magnetic insert ensures metal particles such as scale are filtered out, thus protecting expensive mag-drive pumps from damage.
The NORI-40 heat transfer valves are available with weld ends or flanges and comply with the European Pressure Equipment Directive. The max. pressure class is 40 bar. The permissible maximum temperature is 450°C.