Wilden Presents its High-Performing Saniflo Hygienic Series Pumps
Wilden presents its high-performing Saniflo Hygienic Series (HS) AODD pumps. Designed to meet and exceed the strictest international regulatory guidelines for food-and-beverage applications, Saniflo HS pumps feature excellent product containment and a straight flow-through design that contributes to performance and enables clean-in-place (CIP) capability, critical to hygienic-process success. These pumps also offer self-priming, dry run and deadhead capabilities, and are ideal for handling shear-sensitive products.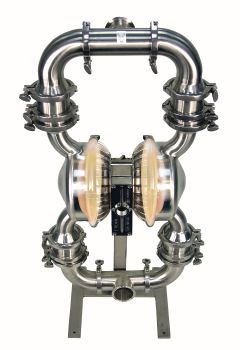 Wilden
Furthermore, Wilden Saniflo HS pumps are one of the few North American made AODD pumps that are validated by both 3-A in the area of CIP and EHEDG cleaning protocol.
Wilden Saniflo HS pumps are available in four sizes from 25 mm (1") to 76 mm (3") and feature flow rates from 144 lpm to 874 lpm (38 gpm and 231 gpm). These pumps are available with the Pro-Flo Shift Air Distribution System (ADS) for outstanding energy efficiency. Additionally, these pumps exceed all CE, ATEX, USP Class VI, 1935/2004/EC and FDA CFR 21.177 requirements.
Wilden also presents its Pure-Fuse diaphragms on display in the booth. Pure-Fuse diaphragm technology incorporates a one-piece design that eliminates product-trap areas between the outer piston and diaphragm that can harbor bacteria, a critical consideration for food-and-beverage applications. This patented design also provides an unbroken fluid-contact surface for exceptional CIP capability and reduced contamination risks. Pure-Fuse combines food-grade plastics and elastomers with a stainless-steel core using no adhesives or nylon fabric that can contaminate process fluids in the event of a breech. In addition, by eliminating the outer piston Pure-Fuse diaphragms experience greatly reduced abrasion, which results in longer diaphragm life.
Wilden Pure-Fuse diaphragms are constructed of food-grade Wil-Flex (Santoprene) and Saniflex (Hytrel). Wil-Flex and Saniflex diaphragms meet all FDA CFR 21.177, EHEDG and 3-A requirements. Additionally, Saniflex meets 1935/2004/EC requirements. Wil-Flex features wide temperature limits, excellent flex life, high abrasion resistance and outstanding durability, even when handling acids, caustics and other aggressive fluids. Pure-Fuse diaphragms are available in 25 mm (1"), 38 mm (1-1/2"), 51 mm (2") 76 mm (3") sizes with a temperature range from -40°C to 107°C (-40°F to 225°F).