Wilden H800 High Pressure Pumps Meet the Challenges of Ceramic-Slip Transfer
Wilden, the worldwide leader in air-operated double-diaphragm pump technology and an operating company within Dover Corporation's Pump Solutions Group (PSG), announced today that its H800 High Pressure Pumps are the equipment for use in the transfer and recirculation of ceramic slip in the ceramic sanitary ware industry.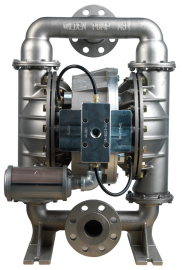 Wilden Pump and Engineering, USA
Ceramic slip is a key component in the manufacture of bathroom basins, shower trays, toilets and bathtubs.
The H800 High Pressure Pumps fit the needs of ceramic-slip applications because they operate in a way that maintain high discharge pressures that are necessary and keep the slip well-hydrated, which are crucial considerations in the manufacture of ceramic sanitary ware. The H800 pumps, which are constructed of ductile iron, generate a 3:1 pressure ratio of inlet air supply to discharge fluid, meaning the pumps can achieve discharge fluid pressures up to 17.2 bar (250 psig).
H800 High Pressure Pumps also incorporate Wilden's patent-pending Pro-Flo X air distribution system (ADS), which offers operational flexibility in ceramic-slip transfer applications. This flexibility is accomplished by the state-of-the-art Efficiency Management System (EMS), which optimizes the Pro-Flo X ADS for the actual operation parameters regardless of the application demands or pump size. The EMS allows the operator to use an integrated control dial to select the efficiency point and flow rate that best suits the application.
About Wilden
Jim Wilden, founder of Wilden Pump and Engineering Co., revolutionized the pumping industry when he invented the air-operated double-diaphragm pump in 1955. Since then, Wilden has created a line of distinctive pumps that have proven to be trustworthy solutions to pumping applications in a wide variety of industries. Wilden - headquartered in Grand Terrace, California, USA - is a member of Dover Corporation's Pump Solutions Group (PSG).