Wilden Debuts Next Generation of FDA Sanitary Air-operated Double-diaphragm Pumps
Wilden previewed new models of its sanitary Saniflo FDA Air-operated Double-diaphragm pumps powered by the just-released stainless steel version of the energy-efficient Pro-Flo SHIFT Air Distribution System (ADS).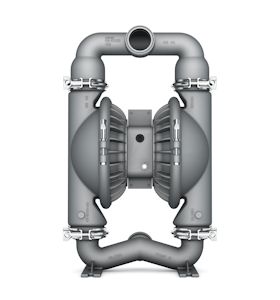 Wilden Pump
Unveiled at 2014 Pack Expo, the new Wilden SHIFT Saniflo FDA pumps are ideal for sanitary applications within the food, beverage, pharmaceuticals and cosmetic processing markets. These new Air-operated Double-diaphragm pumps feature 316 stainless steel wetted parts, tri-clamps for compatibility with sanitary piping systems, significant energy savings, long life and simplified maintenance.
"The Pro-Flo SHIFT ADS has won multiple innovation awards for its energy savings, performance and efficiency," said Carrie Halle, PSG Director of Global Marketing. "Previously the Pro-Flo SHIFT has been available only on Wilden's Original™, Advanced™ and Advanced™ FIT series pumps. Now, with the release of the stainless steel version for Saniflo, Wilden is able to offer the most energy-efficient Air-operated Double-diaphragm pump in its class for sanitary applications."
Wilden's patent-pending Pro-Flo SHIFT ADS incorporates a unique Air Control Spool that automatically restricts the amount of air going into the pump during the latter part of each stroke, which eliminates over-filling of the air chamber and results in reduced energy consumption. By optimizing air consumption, the Pro-Flo SHIFT lowers energy and operating costs, achieving up to 60% savings over competitive Air-operated Double-diaphragm pump technologies.
Available in 38mm (1.5"), 51mm (2") and 76mm (3") inlet/outlet sizes, various models of the Pro-Flo SHIFT Saniflo FDA pumps will be available for compliance with industry standards, such as FDA CFR 21.177, USP Class VI, 1935/2004/EC, CE and ATEX requirements. Diaphragms will be available in Buna-N, EPDM, PTFE, Saniflex™ and Wil-Flex™.
The new Pro-Flo SHIFT Saniflo FDA pumps will be available in Q4 2014.