Where Quality Gets a New Lease of Life
This summer, KSB Aktiengesellschaft, Frankenthal, added an economic alternative to its range of products and services: attractively priced remaining stock and factory-rebuilt equipment.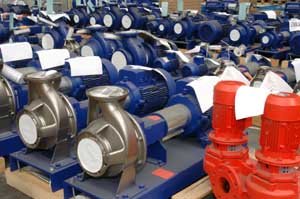 At www.ksb.de/resale, interested parties will find the technical details and prices of the stocked goods which are sold ex warehouse (currently in German only).
Mainly on offer at present are standardized water, waste water and circulator pumps, as well as sizeable stock of assorted electric motors. The company is planning to continually enlarge the offered product range and to gradually include other product groups as well. At the end of 2004, the web page presenting the products on offer will be available to interested users in English and French too.
Although the Frankenthal-based pump manufacturer as yet does not actively take back second-hand products, it does offer its customers to sell their used equipment on a commission basis through the KSB Internet portal.
E-mail contact: resale@ksb.com