WaterTec Africa 2009 – Increasing Opportunities in Africa's Water Sector
Increased investment in the water sector in Africa is creating business and growth opportunities across the continent. The global value of the water industry, which includes waste treatment, valves, pumps, filtration and desalination equipment, is now worth about US$400 billion. With all the opportunities the sector presents, the introduction of WaterTec Africa 2009, aimed at showcasing industry opportunities and challenges, is therefore appropriate and timeous.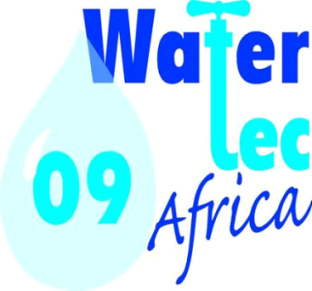 WaterTec Africa 2009
So says John Thomson, event spokesperson and Director of Exhibition Management Services, co-organisers of the event. A new event on the industry event Calendar, WaterTec Africa 2009 takes place from 9 to 11 June 2009 at Gallagher Convention Centre in Midrand.
According to Thomson, funding for Africa from development partners has increased from US$787 million in 2003 to US$1.34 billion in 2006 – a jump of almost 60%. There is no question that commitments to water projects in Africa are growing. The World Bank remains the major single contributor to the overall funding of the water sector in Africa. In 2007 it increased its investment by nearly 20% on the previous year, by investing some US$720,5 million in water, sanitation and flood protection, making Africa a priority for development assistance.
South Africa is also investing heavily in the water sector. Finance Minister Trevor Manual recently announced a R3,1 billion grant for a three-year programme, which will mainly focus on uplifting regional and district water storage and supply capacity. To alleviate backlogs in electrification, water sanitation in schools and clinics, a further R500 million was allocated. Along with this, Government is increasing budgets for water research, showing that this is also a top priority.
There is a growing realisation worldwide that investment in water infrastructure brings good returns – economic, developmental and social. The World Health Organisation recently conducted a cost-benefit analysis, determining that every US$1 invested in water sanitation would yield an economic return of between US$3 and US$34, dependant on the region. There is no question that increased funding is justified by the benefit of water infrastructure investment.
"There is no doubt that all these developments present opportunities for the private sector – as well as challenges", continues Thomson. "WaterTec Africa 2009 will provide a platform for all stakeholders to interact, identify opportunities and extend their networks. Innovations, developments, new technologies will be some of the features of this inaugural show".
Major water projects currently underway in Africa include the Chobe-Zambezi River Water Transfer Scheme (Botswana) and the Dar-es Salaam Water Supply and Sanitation product (Tanzania). "Public-Private Partnerships in the reconstruction and development of water infrastructure and its ownership are on the increase in Africa, although the state owns and controls most of Africa's water assets." " continues Thomson.
WaterTec Africa comprises an exhibition, conference and matchmaking programme.
Supporting Associations
WaterTec Africa 2009 is endorsed by:
The African Water Association (AFWA)
The Chemical and Allied Industries Association
The Department of Water Affairs and Forestry (DWAF)
The South African Irrigation Institute
The Water Institute of South Africa (WISA)
"Global participation in the event is a reality", says Thomson. "Two international pavilions have already been confirmed, including China and Taiwan. Confirmed foreign participants include exhibitors form Portugal, India and Italy."
Business Matchmaking Programme
Sponsored by Siemens, the Business Matchmaking Programme will provide confirmed participants with a pre-matched report, specific to their industry and target markets. Participants can select who they would like to meet and the expert WaterTec Business Matchmaking team will schedule and confirm meetings, making this a powerful networking platform.
The Conference
With the theme "Trends and Challenges", the conference will highlight water and wastewater opportunities and challenges beyond 2010.
Participating Media Partners
Confirmed media partners are: African Mining; Engineering News; IMIESA; International Water & Irrigation; Mining Mirror; The Civil Engineering Contractor; Water & Sanitation Africa; and, Water Sewage & Effluent. WaterTec Africa 2009 will be co-located with the 6th Edition of the Biannual "Pumps, Valves & Pipes Expo", (PVP), as well as Petro.t.ex 2009