VSX Appoints Distributor for Southeast Asia
VSX – Vogel Software, producer of pump selection software Spaix, is now represented in Southeast Asia by the new distributor Euroflo.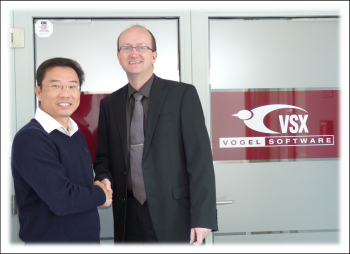 Looking forward to their prospective collaboration: Max Chiew, General Manager of Euroflo (left), and Jens-Uwe Vogel, Managing Director of VSX. (Image: VSX - Vogel Software)
In February 2011 the German software producer VSX – Vogel Software and the Singaporean-based company EPI Pte Ltd. (Euroflo) have signed a contract concerning the distribution of the pump selection software Spaix in Southeast Asia. "With Euroflo we have found a competent partner for the Southeast Asian market who has comprehensive know-how in pump technologies and accordant industry knowledge. We are very pleased to provide our customers in Singapore, China, Malaysia, Thailand, Vietnam, Indonesia and the Philippines a regional contact person with immediate effect" emphasizes Jens-Uwe Vogel, Managing Director of VSX.
The Singaporean manufacturer Euroflo offers a wide range of pumps, pump systems and related services. Since the 1990's the company produces and distributes high-quality products under the brand name Euroflo and has a continued growth up to today. After the expansion of production capacities in 2007, the company was not only able to manufacture larger quantities but also to complement the assortment with further pump types.
Euroflo employees were trained by software specialists at the VSX headquarters in Dresden, Germany. Moreover, VSX equipped the company with all necessary and important materials. Euroflo will independently organize and follow-up all regional sales and marketing activities. Furthermore, the distributor will provide a wide range of support options and services. Thus, the customers within these sales areas have one contact person for all fields.
"We are looking forward to the successful collaboration with Euroflo and the associated strengthening of our market position in Southeast Asia" resumes Jens-Uwe Vogel.