Vogelsang Remains on a Sustained Course of Growth
Hugo Vogelsang Maschinenbau GmbH and its subsidiaries can look back at a successful business year 2014. The machine construction company s consolidated turnover rose to 85 million euros, resulting in a growth of 15 percent for the internationally active company.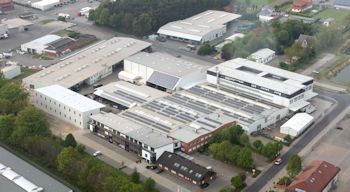 The headquarters in Essen/Oldb. has grown significantly with the addition of a 4,500 m² building (Image: Hugo Vogelsang Maschinenbau GmbH)
Managing Director Harald Vogelsang draws a positive conclusion: "2014 was a very good year for us. We have made progress in all areas and have not only increased turnover, but also introduced new technical developments."
Area and service expansion
Our headquarters in Essen/Oldenburg have grown with the addition of a 4,500 m² building. It accommodates a new production area over two floors and around 2,200 m² of additional office space and break rooms. What s more, the new hall space offers an area of more than 400 m² for the maintenance and repair of customer systems. For the first time, Vogelsang is able to perform pump and macerator maintenance and repairs directly on tankers without having to disassemble them. Vogelsang has expanded its range of services by offering longer service hours at the Essen site, and a spare part emergency service that is available in the evenings and on weekends.
New site, more employees
Vogelsang also opened its 20th international subsidiary in Austria last year. The number of employees worldwide has risen from 620 to 650 in all; nearly 10 percent of which is accounted for by 67 apprentices.
Successful market positioning of product innovations
Vogelsang set a milestone in the biogas sector in 2014: "The development of the CC-series progressive cavity pump has helped significantly expand our pump technology range. This innovation prompted a number of positive responses at the EuroTier trade show, and was awarded the DLG silver medal", says Mr. Vogelsang. The PreMix feeding system based on the CC-series is also a new addition, and is primarily intended for processing biological waste materials in biogas plant applications. "We are able to very successfully operate on the market with these products and our BIOGASmax consultation concept", adds Harald Vogelsang.
Pioneers of innovative liquid manure technology
Vogelsang presented product innovations in the agricultural sector at its own in-house Expertise Day to around 1,400 farmers and contractors last September. With 20 partners for exhibition and field demonstrations, Vogelsang has established the largest liquid manure technology event in the industry. Among other things, visitors could see the BaseRunner sliding skate, a cost-effective expansion of effective dribble hose technology that is ideal for use on pastureland. In 2014, Vogelsang also acquired another cooperative partner for SynCult: In addition to AMAZONE, Vaederstad now offers the liquid manure retrofitting set from Vogelsang for its own tillage equipment for large-area incorporation of liquid manure. Vogelsang is hoping to welcome more partners in 2015.