Vogelsang Presents Pump Technology for Paint Industry
Hugo Vogelsang Maschinenbau GmbH presents rotary lobe pumps from Vogelsang for the chemical paint industry.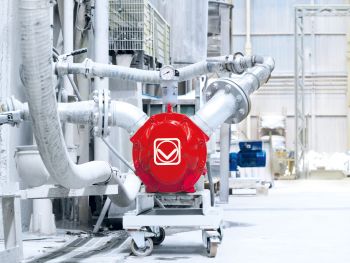 Hugo Vogelsang Maschinenbau GmbH
"Pumps that are used to pump paint, adhesives and similar chemicals have to satisfy high requirements. To pump viscous or abrasive fluids, or fluids with high solids content, the industry needs highly developed technology. Vogelsang offers pumps that are both heavy-duty and easy to maintain, providing customized solutions suitable for every application," says Harald Vogelsang, managing director of Hugo Vogelsang Maschinenbau GmbH.
IQ rotary lobe pump for paints
In the rotary lobe pumps of the IQ series, all parts that come into contact with the pumped media, such as the pump cover, pump housing and connectors, are made from stainless steel and are therefore resistant to aggressive fluids. The lobes can be made from a variety of materials (elastomeric coating, solid stainless steel or polyurethane), depending on the properties of the pumped media. The fluid buffer is integrated as a standard feature preventing dry running of the pump while at the same time increasing its suction capacity.
Pumps of the IQ series are exceptionally user-friendly in their design. The pump chamber consists of one centrally located part and can be dismounted in a few easy steps. This allows on-site access to the pumping elements for servicing and maintenance work while the pump itself remains securely screwed into the pipe. The number of essential spare parts has been halved resulting in a significant reduction in cost and time required to replace wear parts. Variable connectors make installation suitable and easier for all common scenarios.
VX series – rotary lobe pump for media with high foreign matter content
The pumps of the VX series are reliable in abrasive and viscous media with high foreign matter content, such as paints, sealants, adhesives and similar chemicals. Their design makes them particularly robust and easy to maintain. They also have good priming properties and are resistant to dry running. The flow direction of these pumps can be reversed in order for containers and tanks to be filled and emptied. Pulsation-free HiFlo rotary lobes ensure gentle pumping, being ideal for media and substances that are sensitive to shearing forces.