Versatile, Cost-effective Liquid Delivery
The new Model 2-1 Development Unit is a versatile tool for process development. Meter liquid at flow rates up to 50 ml/min from a compact unit.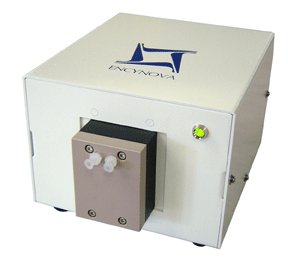 These units are equipped with a single-cylinder pump and easy-to-use controls. Control the pump with the built-in analog control knob, or supply your own analog signal or use RS485/232 communications.
The Enclosed version includes a built-in power supply with controls mounted on the back panel of the enclosure.
The Tethered Control Box version has the same controls in a compact box connected to the pump. Plug a power supply (available from Encynova) into the Control Box and you're ready to begin.
Encynova's scalable technology takes you from laboratory development, to pilot plant, to full-scale production with process-friendly digital integration. Encynova pump systems are also available as Modules for integration into digitally-controlled manufacturing tools and automated systems.
As with all Encynova systems, sliding ceramic port plates internally seal the liquid path and valves are not needed to control flow. The pump does not lose prime and is rated up to 125 psi. The 'inert' materials configuration and built-in controller and power supply allow the user to handle a variety of chemicals quickly and easily. The Enclosed Model 2-1 is cost-effectively priced and is recommended for metering applications up to 50 ml/min.