Use of Mouvex Eccentric Disc Pumps in Product Recovery Applications Gaining Momentum in Hygienic Markets
Mouvex is pleased to announce that its Product Recovery initiative continues to gain momentum in the hygienic markets, including the food and beverages, pharmaceuticals and personal care products. Mouvex highlighted the benefits of its Eccentric Disc Pump Technologies in Product Recovery applications at the 2014 Pack Expo, which took place on November 2-5 in Chicago, IL, USA.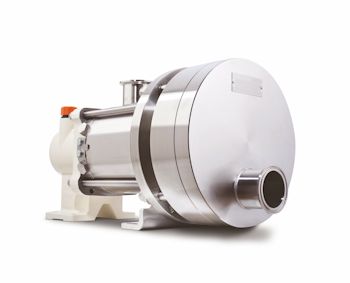 SLS Series (Image: Mouvex)
"Efficiency, sustainability and waste reduction were key themes at this year's Pack Expo," said David Kirk, Hygienic Market Manager, Americas. "One area where waste can be significantly reduced is in product recovery during the manufacturing process, and Mouvex eccentric disc pumps are an efficient, cost-effective way to reduce waste and recover profits. Not only were attendees at Pack Expo very impressed with the product recovery benefits of Mouvex pumps, but many attendees witnessed the unique Demo Unit from Mouvex that easily shows how manufacturers can save money and recover valuable product from the piping thanks to our technology."
Product recovery refers to the high utilization (or yield) of products or ingredients substantially eliminating waste – and thereby increasing profits – that would otherwise remain in suction or discharge process lines during changeovers or at the end of production runs. The key to optimizing product recovery is identifying and employing the most efficient and reliable pumping technology, one that can be trusted to reliably strip suction or discharge lines of valuable raw materials and saleable end products. Thanks to an innovative operating principle that provides a non-pulsing, low-slip operation with high volumetric consistency, Mouvex pumps can achieve product-recovery rates of 60% to 80% or more.
Sustainability and reducing waste were not only important themes at this year's PACK EXPO, but also key topics at the recently held IFT 2014 show in New Orleans, LA, USA. At the show, industry expert Innova Market Insights, a global market researcher that covers food trends in more than 70 countries, unveiled its Top 10 Food Trends for the coming year. Number one on that list was "Waste Not, Want Not," which concerns the alarming amount of food waste that occurs from farm to fork.