Unique Gear Joint Allows For Maximum Performance of Moyno® 2000 Pump
Moyno, Inc. offers the Moyno 2000 Progressing Cavity Pump with a unique gear joint that allows the versatile, high-performance pump to handle a wide range of applications from shear-sensitive chemicals to difficult-to-process slurries and sludges.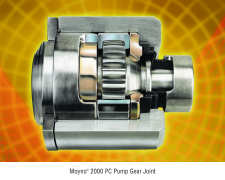 Moyno 2000 PC Pump Gear Joint
The Moyno 2000 Pump features the highly acclaimed crowned gear universal joint drive train configuration to provide exceptional torque and thrust control. Patented joint seals effectively protect the gear joints from pumpage contamination. The gear joints in the Moyno 2000 Pump are grease-lubricated to run at 180° F, far cooler than oil-lubricated joints. The rear gear joint location in the Moyno 2000 Pump reduces the radial load on the drive shaft and bearings and requires minimal pump disassembly to service. The Moyno 2000 pump line offers capacities of 2 – 2500 gpm (.5 – 568 m3/hr) and pressure capabilities to 1,000 psi (69 bar).
The Moyno 2000 Pump provides efficient performance and low total cost of ownership in an extensive array of applications, including:
Sludge and mineral slurry transfer
Feeding dewatering equipment
Paper coating color and clay slurry
Gypsum, plaster and resins
Whole grapes and solids-laden food wastes
Paint, solvents, adhesives and gels
About Moyno
Moyno, Inc., a part of the Fluid Management Group of Robbins & Myers, Inc., is a leading manufacturer and marketer of Moyno progressing cavity pumps, multiphase fluid transfer systems, grinders and controls. It has an extensive worldwide stocking distribution network that serves a wide range of industries including water and wastewater treatment, pulp and paper, chemical, food, pharmaceutical, mining, petrochemical, biofuels and oil and gas recovery. Moyno, Inc. is part of the Fluid Management Group of Robbins & Myers, Inc.