Ultra-Efficient Chilled Water Pump Package Launched by Armstrong
The IPP-CHW Ultra-Efficient Chilled Water Integrated Plant Package now launched by Armstrong is the most energy efficient solution available on the market today for chilled water applications in the 500 to 3600 kW range.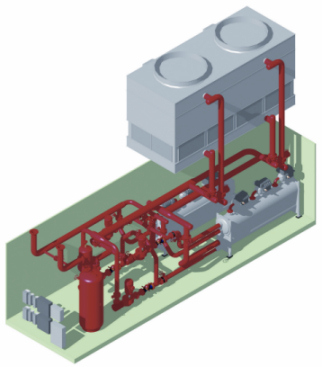 Armstrong
It has been shown to provide operating plant efficiencies of not less than 7.3 COP (on an annual average basis). This applies not just to the chiller unit, but to the performance of the entire system. It is also the most space efficient solution available, with the potential to reduce plant footprint by 2/3rds, and offers all the project benefits of off-site manufacture.
The Armstrong IPP-CHW is able to use less energy because it is an all-variable, fully automated system utilising the Armstrong Integrated Plant Controller (IPC), based on advanced Hartman Loop control methodology. It incorporates Armstrong vertical inline Series 4300 pumps, and high-reliability, low-maintenance Quantum chillers with oil-free frictionless compressors. It is delivered to site as one fully integrated, factory-built product.
The IPP-CHW offers unrivalled energy efficiency by operating as a single integrated system, rather than as three independent PID loops. Its controller maximises the potential of the variable speed, auto mode components in the system. As all equipment is fully integrated, energy savings and capacity are automatically traded-off between the individual components, optimising the efficiency of the entire system at all times. Control is demand based, with sequencing following a natural curve operating under equal marginal performance principles. This achieves optimal power relationships across each system, thereby achieving the same cooling capacity for a lower electrical input.
This ultra-efficient technology can achieve an annual average greater than 7.0 COP compared to a previous best practice COP of between 3.2 and 2.2 . This is based on 1kW of electric used, for 7kW of cooling realised. This compares extremely well with best in class performance offered by other modern technologies, offering an energy reduction of more than 30%. Compared to standard practice the level of energy saving is even higher, anywhere up to 60% energy reduction dependent on equipment selection.
As the IPP-CHW is designed using the latest 3D computer modelling and supplied as a complete, compact, operating plant, it can reduce the required footprint to a minimum. Off-site manufacture also means that project risk is reduced, the chilled water plant can be constructed concurrently with a build project, instead of adding extra time at the end, and installation can be completed in a fraction of the time compared to traditional on-site assembly.
In addition to saving on energy costs, users of the IPP-CHW will also benefit from lower costs of ownership throughout the equipment's life. As the IPP-CHW is an all-variable system, with components specifically designed for high reliability and ease of service, there is less wear on the equipment and faster service times, which results in lower repair costs and longer life.