TXD Able to Transfer Multiple Types of Fuel Products
Blackmer announces its TXD Series of sliding vane pumps are now able to transfer multiple products such as fuel oil, diesel, kerosene, gasoline, avgas, jet fuel, biofuels, ethanol, petrochemicals, light lube oils and solvents. No matter the product, Blackmer TXD pumps can be configured to efficiently handle almost any type of fuel.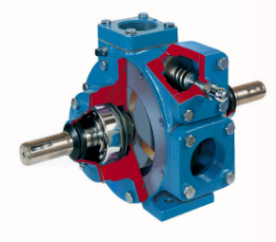 Blackmer TXD Sliding Vane Pump
TXD pumps are available in 1.5-, 2-, 2.5-, 3- and 4-inch port sizes with flow rates from 10 to 500 U.S. gpm and pressures to 125 psi. They provide fast, quiet, trouble-free operation including excellent self-priming and dry run capabilities. Adjustable relief valves protect the pump from excessive pressure. The optional air-operated piston relief valve offers easy hose and nozzle handling. T-type strainers are available to protect pumping systems from damage caused by foreign material in the piping and tanks for the 2-, 2.5- and 3-inch pumps.
Blackmer originated the first truck-mounted pump in 1915 and has continued to bring innovative pumping solutions ever since, earning its sliding vane technology a proven track record. The sliding vane design compensates for normal wear in the pumping chamber, ensuring like-new performance throughout the life of the unit, while the higher pumping capacities at lower speeds increase service life. The TXD pump is easily serviced without having to remove it from the truck or piping.