Thompson's Piston Wellpoint Pumps A Fuel-Saving, Sound Attenuated Rental Powerhouse
Cost of operation is one of the biggest concerns contractors have regarding their equipment. Thompson Pump has the solution with a new line of Piston Wellpoint pumps (PW).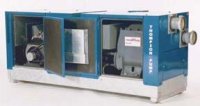 (Source: Thompson Pump)
Extremely efficient and packed with user benefits, the PW pumps are capable of operating for very long periods of time on a small amount of fuel. Plus, the pumps provide high air handling necessary on the toughest wellpoint and sock applications. The pump and engine are enclosed in a robust sound attenuated enclosure, which reduces noise levels below 64 dBA at 23 feet allowing operation near noise-sensitive areas such as hospitals and residential neighborhoods.
The PW pumps, available in 3-inch, 4-inch and 6-inch models, are equipped with a self-priming, positive displacement piston pump. As the crankshaft turns, the pistons are raised within their respective cylinders, which creates a low-pressure vacuum causing the water to enter the diesel-powered pump. The suction valve then opens and the discharge valve closes, regulating the water flow as it passes through the pump. As the pistons are lowered, the water is forced out of the cylinder and through the opened discharge valve. Because of its efficient design, the pump is capable of operating up to 11 days using only 4 gallons of fuel per day, dramatically reducing fuel costs. The pumps also are environmentally friendly, sporting a double sealing piston rod which prevents any oil from entering the environment.
About Thompson Pump
Since 1970, Thompson Pump & Manufacturing has specialized in assisting contractors and engineers worldwide with high quality pumps, dewatering equipment and engineering expertise. Based in Port Orange, Florida, Thompson Pump operates sales, rental and service centers throughout Florida and in Georgia, South Carolina, North Carolina, Virginia, Mississippi and Louisiana; and has distributors nationwide. Thompson's pumps are certified by the Contractors Pump Bureau and the company is a previous winner of the Blue Chip Enterprise Award.