The Wright Man for the Job
International pump distributor and manufacturer, Tomlinson Hall is delighted to announce the recent appointment of Mark Wright as part of their Internal Sales Team.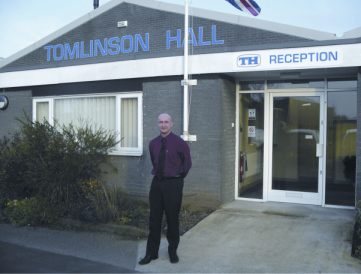 Mark Wright
Family man Mark, 35, from Norton, joins Teesside based Tomlinson Hall after a long career in business support, spanning the manufacturing, electrical and engineering industries. Mark's previous employment includes MB Services (NE) Ltd, an integrated engineering design firm and S E M Electrical Ltd, an electrical maintenance and installation business.
Mark's new role at Tomlinson Hall will incorporate total customer care and business support, which includes client liaison and supply chain management.
Founded in 1919 and members of North East Pharmaceutical Cluster, NEPIC, Tomlinson Hall, remains the distributor of choice for many international manufacturers including Crane ChemPharma Flow Solutions, Alfa Laval and Grundfos.
Sales Director, Colin Simpson "We are thrilled to welcome Mark, his impressive experience and professionalism made him the obvious choice. We (Tomlinson Hall) have enjoyed great success at the recent Pump Industry Awards, so this is a brilliant time to join us and Mark's addition compliments our expansion and marketing strategies for 2009."
Mark commented, "This is a very exciting time for Tomlinson Hall, the company as a whole has celebrated many successes in 2008 and it's great to be a part of that."
"Client relationship management is my main remit and I feel capable and confident that I will be able to meet the high standards of customer care synonymous with Tomlinson Hall."