The Wangen MX Hygienic Progressing Cavity Pump Range is now Available from Pumpenfabrik Wangen
The MX range has been available throughout the entire Pumpenfabrik Wangen sales network since 1 April 2019. The hygienic progressing cavity pump, which was once part of the Knoll Maschinenbau range, has now been successfully integrated into the product range of the South German pump manufacturer.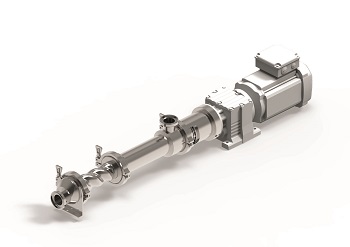 1 April 2019 launch date: Wangen MX progressing cavity pumps for demanding, hygienic pumping and metering processes in the food, pharmaceutical and cosmetics industries. (Image: Pumpenfabrik Wangen)
"We are adding the leading hygienic progressing cavity pump to our strong hygienic twin screw pump range, offering our customers in future a considerably wider range from a single supplier," explains Markus Hofheinz, Managing Director of Pumpenfabrik Wangen. A project with an ambitious objective, which was started in mid-January 2019, has now been successfully completed on schedule.
In recent years, Pumpenfabrik Wangen has successively optimised and expanded its hygienic pump range with the Wangen Hyline and the Wangen Twin NG, in terms of progressing cavity pumps and twin screw pumps. The MX range of pumps is an excellent fit and will enhance this business area.
The most stringent hygiene requirements and ease of service are the top priority with Wangen products. The MX range offers USPs in terms of stability, pressure for use in hygienic fields, as well as in the chemical, paint, lacquer and paper industries. A key feature of the MX range is its EvenWall technology version, resistance and ease of service. Their modular design and robust construction make MX progressing cavity pumps ideal which offers significantly higher pressure stability. The range also provides very high hygiene standards around the joints and seals.