The Revolution in Lubrication – GMax 6000
The Falk Corporation headquartered in Milwaukee, Wisconsin just introduced GMax 6000 Enclosed Gear Drive Lubricant. GMax 6000 provides unparalleled performance with superior wear protection, thermal and oxidation stability, and extended operating life.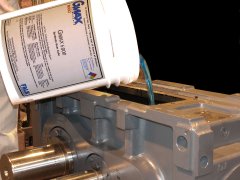 Falk Corporation
In addition, GMax 6000 is available as a "Factory Fill" option on all Falk gear drives.
Using GMax 6000 in your enclosed gear drives will allow you to extend your operating life up to 15000 hours between changes. This results in significantly lower operating costs for your gear drives. In addition, the wide temperature capability of GMax 6000 can eliminate seasonal lubricant changes due to climate. The operating range for GMax 6000 is –30F to +235F.
Falk offers a 10-year gear performance warranty for drives that are factory filled with GMax 6000!
The Milwaukee, WI based Falk Corporation offers drive systems, gear drives, gearmotors, shaft couplings, fluid couplings, coupling guards, ring gears, and steel castings in mining, metal processing, pulp and paper, cement, aggregates, chemical processing, utilities, transportation, and food processing.