The pump as process monitor
The new "Pump Expert S" from KSB Aktiengesellschaft, Frankenthal, is a fully independent measurement data evaluation system. It serves as a bus coupler to ensure local connection of the control station with a field bus, and analyses different measured variables by means of an integrated expert system.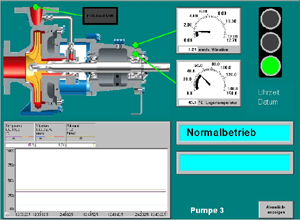 (Screen shot of "Pump Expert S", Source: KSB)
To do this, any common level indicator, resistance thermometer, wattmeter, PTC resistor, pressure transmitter, vibration sensor or pressure or level switch will be suitable. On the basis of the measured variables, the integrated PLC (programmable logic controller) will determine the status of the pump set using a fault table, and identify any influences arising from the process which may be causing problems.
This is a very cost-effective way to significantly improve efficiency and system availability, particularly in the case of critical plants and expensive pumps. Misalignments or dry running conditions will immediately be noticed. Hence, the costs for installation, commissioning and maintenance will decrease.
Downtime can be kept short or even avoided entirely thanks to the pre-alarm function. Early detection will help avoid leakages and harm to the environment. While the availability of systems increases, the life cycle cost will decrease. "Pump Expert S" can be used with different pump types / makes and is also available as an explosion-proof model.