The New Thomas 3014 Series
The 3014 Series is a completely new development and an example of contemporary diaphragm pump technology. The high manufacturing precision, the oil- and maintenance-free design combined with the utilization of modern high quality materials grant the 3014 pump series very high efficiency, stability, reliability and life expectancy.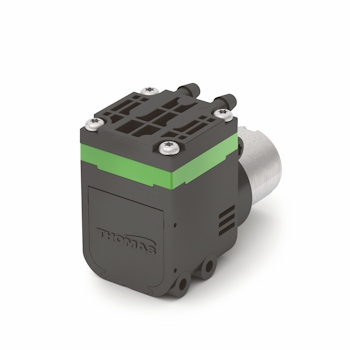 The New Thomas 3014 Series (Image: Gardner Denver Thomas GmbH)
Very consistent flow, high end pressure and final vacuum as well as an excellent flow controllability with fast response behavior are the characteristics of the new 3014 series.
The 3014 was designed for all applications requiring very consistent gas flow with a fast responding and accurate flow control, like for example anesthesia gas monitoring systems or breath-control, systems for patient monitoring or laboratory use. Further applications are general gas analysis and pipettes.
Versatile applications due to flexible pump design
Due to the square design of the pump head with screw mounting, the pump head can
be rotated by 90°. This allows for more mounting flexibility and even more application possibilities. Currently two motor configurations are available, which work with an operating voltage of 3.0 V, 4.5 V, 6.0 V or 12.0 V direct current.
In the field of air- and gas-analysis the Thomas 3014 stands out featuring optimal pump characteristics combined with high reliability and long life expectancy.