The New Sump Pump ETLB-E: Dry Running Safe and Economical
ASV Stübbe's ETLB-E is a single-stage, dry running safe, thermoplastic block sump pump for conveying aggressive fluids containing solid particles.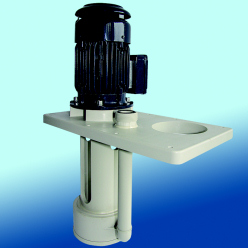 The new sump pump ETLB-E (Image: ASV Stübbe, Germany)
The ETLB-E is suitable for use in chemical plants, water treatment and electroplating, in pressureless containers, open basins or in pump pits.
The newly designed, closed impellers with vanes formed according to fluidic principles are manufactured using state-of-the-art injection moulding technology. The stainless steel shaft is separated from the fluid by a thick-walled thermoplastic tube; the shaft lead-through is sealed at the mounting plate with lip seals. The two-part pump housing consists of the housing cover and pump housing, which are joined by screw connections.
The new ETLB-E is available in the size 25-125 with drive ratings of 0.37 kW to 2.2 kW and can be currently supplied in the material PP. It is designed for heads of up to 21 metres and has an immersion depth of 275 mm.