The acclaimed Fluid, Air & Gas Handling Systems Exhibition hits China in July 2007
PSC 2007, China's No. 1 International Exhibition on Fluid, Air & Gas Handling Systems is coming once again. More than 500 exhibiting companies from over 40 countries/areas and national/ group pavilions from Finland, Germany, Korea and Singapore.....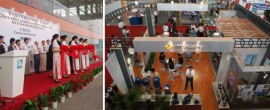 ....will be gathering at INTEX Shanghai from 11 to 14 July 2007, showcasing the latest technology sought after by professionals from the Fluid, Air & Gas Handling Systems Industry. As a synergistic platform showcasing 5 inter-related industry profiles, the products on display will be ranging from pumps & systems, air compressors, control systems, water & wastewater treatment systems and environment protection equipment. In addition, PSC 2007 will have a Special Valves& Piping exhibition area featuring China Valves& Piping products& technology. Held in conjunction with PSC 2007 are Watertech China 2007– The 5th International Exhibition on Water& Wastewater Treatment Systems and Technology; and Envirotec China 2007– The 5th International Exhibition on Pollution Control & Environmental Management Technology.
Derived from a poll of 73 wealth managers in Europe, Asia and US who oversee more than five trillion dollars, The Business Times quoted that China has the rosiest prospects of any wealth market in Asia. With a reported 11.1 percent economic growth in the first three months of the year, China is an excellent investment location to plant the business roots. Therefore, PSC 2007 will serve as the ideal platform for traders to invest in the abundance of business opportunities.
The supporting organisations consist of VDMA– German Engineering Federation (Pumps + Systems Association/ Compressors, Compressed Air and Vacuum Technology Association/ Valve Manufacturers Association), Engineering Industries Association(EIA), Fluidex, Holland Pump Group, Hong Kong Environmental Protection, Indian Water Works Association (IWWA), Indonesian Water Supply Association (IWSA), Regional Institute of Environmental Technology (RIET), Taiwan Fluid Power Association (TFPA), Water and Wastewater Environment Association of the Philippines (WEAP, National Technology Center of Process Equipment, Shanghai Society of Water Purification Technology.
Finnish Environmental Cluster for China (FECC) has organised a seminar to introduce Finland small & medium enterprises to the China environmental industry. FECC gathers environmental operators to build a model so as to accelerate the export of Finnish environmental technology and know-how into China. Technical presentations from international and local exhibitors will also be held. For more information, please visit: www.psc2007.com
SALES CONTACT
Sharon Lim
Deputy Exhibition Director
HQ Link Pte Ltd
Tel +65 6534 3588
Fax +65 6534 2330
Email sharonlim@hqlink.com
MEDIA CONTACT
Laurie Chin
Associate Project Manager
HQ Link Pte Ltd
Tel +65 6534 3588
Fax +65 6534 2330
Email lauriechin@hqlink.com
INFORMATION AT A GLANCE
Date: 11–14 July 2007
Venue: INTEX Shanghai, Shanghai, People's Republic Of China
88 Loushanguan Road, Shanghai 200336, People's Republic Of China
Opening Hours:
11 July: 0900 hrs – 1000 hrs Opening Ceremony (For invited guests only)
1000 hrs – 1630 hrs Exhibition
12 July: 0900 hrs – 1630 hrs Exhibition
13 July: 0900 hrs – 1630 hrs Exhibition
14 July: 0900 hrs – 1400 hrs Exhibition
ABOUT HQ LINK PTE LTD
At HQ Link gears ourselves to fulfill world-class standards in the provision of exhibition and conference services and solutions. The business objective is to bridge your gaps of reaching out to customers across continents. Established in 1989, HQ Link is a leading Singapore-based professional exhibition organiser and has experience in organising over 250 international exhibitions and conferences in the Asia Pacific region. For more information on HQ Link visit www.hqlink.com