Tencarva Opens New Facility in Columbus
Tencarva Machinery Company LLC, a distributor specializing in pumps, liquid process, and custom-designed systems for the industrial and municipal marketplace, opened a new branch office in Columbus, Miss., on May 11, 2017, with Trent Unruh both selling and performing service-related activities, and reporting to Collins Allen, branch manager in Brookhaven, Miss.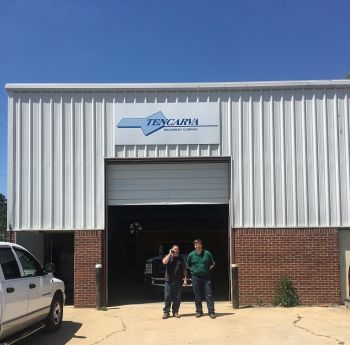 In front of the new Tencarva Columbus Branch office are Trent Unruh, service sales in Columbus, and Jason Rowland, Jackson, Miss., branch manager (Image: Tencarva Machinery Company LLC)
Don Wirth, Tencarva vice president located in Nashville, Tenn., emphasizes, "This new branch has everything to do with the significant industries located in the Golden Triangle area of Mississippi, which includes Starkville, Columbus and West Point, and the need to be closer and more active with them on a day-to-day basis. Having this office and Trent operating out of it, we'll be able to take care of these customers better."
Wirth explains, "The project began at the urging of Jason Rowland, branch manager in Jackson, Miss., in early 2015. The impetus was all about taking care of these local customers with better response time, local strategic inventory and quicker service. The result should therefore be increased sales as well as increased service opportunities for our Columbus and Brookhaven, Miss., and Memphis, Tenn., service shop locations."
The new facility provides a more focused and consistent presence in the Columbus marketplace. With a total of 1,800 square feet, the facility was originally a storage unit (one of four in the building) that was offered to Tencarva to get the office started. A 400 square-foot office area/bathroom was added to the storage area.
Involved with bringing this new location into Tencarva were Rowland; Allen; Rob Pohlmann, IT director; Adrian Harris, IT systems; Susan Ingram, financial reporting manager; and Bob Hawkins, IT systems manager. Already, Trent is out selling and performing service for the customers in the Columbus area.