Tencarva Gains Municipal Market Representation Of ITT Goulds Pumps Product Lines
ITT Goulds Pumps, headquartered in Seneca Falls, N.Y., recently awarded Tencarva Machinery Company a representative agreement for its pump product lines for the municipal marketplace in the entire states of Arkansas and Tennessee, and in portions of North and Central Mississippi, according to Harold Muse, executive vice president of Tencarva Machinery Company.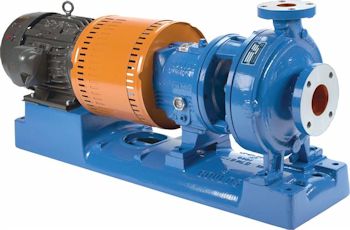 The Goulds 3196 I-Frame pump is used in chemical transfer processes (Image: Tencarva)
Muse points out, "This announcement adds municipal market responsibility to Tencarva's long-standing relationship with ITT Goulds Pumps in the industrial marketplace. Tencarva has been with ITT Goulds Pumps for over 34 years and has been in the municipal marketplace in Arkansas, Mississippi, and Tennessee since 2001. Tencarva is extremely pleased to represent Goulds Pumps municipally with their well-respected reputation gained from being in the pump business since 1848."
Muse continues, "Now in addition to ITT's PumpSmart, ProSmart and ProShop Repair offerings, Tencarva will have the complete ITT Goulds Pump line including the market leader Model 3196 ANSI Pump for municipal applications. From End Suction to Horizontal Split Case to Vertical Turbine Pumps, and from low flow to 100,000+ GPM, Tencarva is able to handle most municipal pumping needs. This addition, coupled with being a distributor of John Crane Mechanical Seals, positions Tencarva to be an unique problem solver for the municipalities and the engineering firms that support the municipal marketplace."
The counties of Mississippi included in the territory are Alcorn, Bolivar, Calhoun, Carroll, Chickasaw, Choctaw, Clay, Coahoma, De Soto, Grenada, Itawamba, Lafayette, Lee, Leflore, Lowndes, Marshall, Monroe, Montgomery, Oktibbeha, Pontotoc, Sunflower, Tallahatchie, Tate, Tippah, Tishomingo, Tunica, Washington, Webster and Yalobusha.
ITT Goulds Pumps is the world's leading manufacturer of clean water and chemical process pumps used in municipal drinking water purification applications, including high service, filter backwash, distribution booster pumps, water production and wastewater treatment. ITT Goulds Pumps is part of ITT Industrial Process, a dynamic global business with an extensive portfolio of leading edge technology in pumping systems, valves, control systems and services that has served customers in the oil and gas, mining, chemical, power generation, biopharm, general industries markets and more for more than 160 years.
ITT is a diversified leading manufacturer of highly engineered critical components and customized technology solutions for growing industrial end-markets in energy infrastructure, electronics, aerospace and transportation. Founded in 1920, ITT is headquartered in White Plains, N.Y., with employees in more than 15 countries and sales in more than 125 countries.
Tencarva Machinery Company, headquartered in Greensboro, N. C., is a distributor specializing in pumps, liquid process, vacuum equipment and custom-designed systems for the industrial and municipal marketplace. Tencarva is dedicated to providing the highest quality process machinery, coupled with superior customer service and integrity.