Tankers go Aussie
The Watercart Specialists (TWS) from Sydney is one of Australia's most progressive tanker hire fleets. With a huge fleet they cover construction, highway jobs and dust suppression in a wide range of applications. General Manager, Billy Bastian, switched over to Aussie Pumps' 3" gushers with Honda engines and now uses Aussie Pumps on every single tanker in the fleet!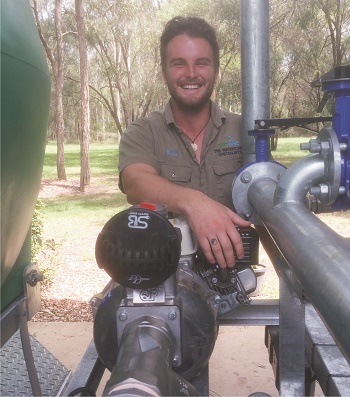 Billy Bastian, General Manager of TWS has converted his fleet of water tankers to Aussie pumps because of their reliability and performance. (Image: Aussie Pumps)
"We chose the Aussies because we found third world el-cheapo pumps just don't stand up and we wanted something from a first-world manufacturer with a genuine Honda engine," he said. "When Aussie came to us with a 5 year warranty on the pump end and then matched with a 4 year Honda engine warranty, we knew that the Honda/Aussie combination was going to be the best you can buy!" he said.
The standard 3" gusher used by TWS delivers a whopping 1,000 litres per minute flow but can also perform as a pressure pump with pressures of up to 45 psi. In the tanker installation the 3" pump, delivers loads of performance to the spray heads enabling the TWS tanker to really perform to the best ability.
"Using the Aussie Pumps means customer satisfaction is guaranteed" said Billy Bastian. "The pumps are foolproof and we put operators (hire operators) through a comprehensive training programme before we hand the tanker over," he said.
All the tankers are rented 'dry hire' and the TWS team do periodic checks to make sure everything is working in order.
"We've added almost 95% fill rate of hire availability for the last 6 months and keep having to build more tankers" said Bastian. "The pumps are virtually trouble-free and the big open, high SG cast-iron impeller means that even water with sump contamination can be handled without causing any heartache," he said.
The pumps self-prime from 7.6 metres, a handy attribute if the tanker ever has to load from river or dam!