Tank Farm Running at Full Capacity Utilizing Blackmer GX Series Pumps
27.11.2008
Callahan Chemical, one of the top 25 chemical distributors in the United States, recently redesigned its flagship facility in Walpole, MA, utilizing Blackmer GX Series sliding vane pumps. Since the redesign, the Callahan Chemical facility has been operating at full capacity.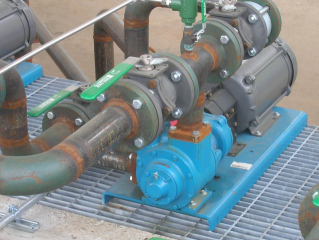 Blackmer
Callahan is a distributor and re-packager of volatile, highly flammable and combustible chemicals, such as acetone, methyl ethyl ketone (MEK), ethyl acetate 99, isopropynol 99, toluene, mineral spirits (used to make lighter fluid), textile spirits, heptane, 142 solvent and hexane. As a result, Callahan needed highly reliable transfer pumps with high suction lift capabilities and explosion-proof motors. To meet their special need, they selected Blackmer GX2.5B Series sliding vane pumps.
"Because of the volatility of the products Callahan handles, there was a lot of concern as to how these pumps would run and, more importantly, shut down," said Mike Trask of Hall-Trask Equipment Co., Braintree, MA, a Blackmer distributor that assisted in the tank farm redesign. "All of the safeties had to be put in place for high-level loading and off-loading. It's critical that these pumps perform as specified for the safety of the operation."
In addition to self-priming, high suction lift capabilities and explosion-proof motors, Blackmer GX Series pumps provided Callahan with the benefits of reliable continuous transfer of chemicals from storage tanks, line stripping and heel removal capabilities from rail and transport tankers. The GX pumps also provided Callahan integral head-mounted gear reduction drives with oil-lubricated, hardened helical gears for quiet trouble-free operation. The gear shafts are supported at both ends by ball bearings for smooth operation and long life. GX Series pumps deliver flow rates between 40 and 528 U.S. gpm and are available in port sizes from 2 inches to 4 inches.
"I've been in the chemical-distribution business for more than 20 years and have run many different tank farms. I've always had good luck with Blackmer pumps," said Alex Lukianov, Callahan Chemical's project manager for this venture.
The Blackmer GX Series provides smooth, sliding vane action without metal-to-metal contact, which reduces pump friction, eliminates galling and minimizes agitation of fluids, resulting in shear-sensitive, mild handling of thin liquids without product degradation. Unlike other positive displacement pump technologies that suffer from volumetric inefficiency as they wear, GX Series pumps use self-adjusting vanes that allow the pumps to maintain near original volumetric performance levels even over time.
About Blackmer
Blackmer is a global leader in the design and manufacture of high-quality flow technologies, including peristaltic hose, eccentric disc and rotary vane positive displacement pumps, centrifugal pumps, screw compressors, air elimination systems, and sliding vane and reciprocating compressors for the transfer of liquid and gas products. Blackmer pumps and compressors are used worldwide in a variety of industries, including LPG, Chemical and Industrial Processing, Energy, Food & Sanitary, Military/Marine, and the Mobile Transport industries. Blackmer is part of the Dover Corporation.