Sulzer Introduces an Innovative, Highly Efficient and Cost Effective Cooling Water Pump for Utility Power Generation
Electricity cost is one of the world's major economy drivers; power generation companies always look for the optimization of overall efficiency of power plants to increase their capacity of generating electricity.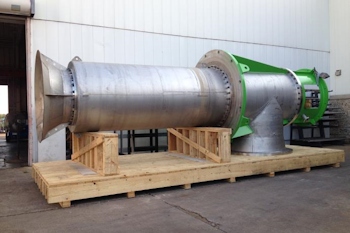 Innovative, Highly Efficient and Cost Effective Cooling Water Pump for Utility Power Generation (Image: Sulzer)
Nowadays, more than 80% of the electricity generation worldwide comes from thermal processes where, for most of the cases, cooling water systems are necessary.
Sulzer can contribute to the optimization of the power plants by introducing the innovative, highly efficient and cost effective cooling water pump (CWP) range type SJT/SJM. The product was officially released during the most recent PowerGen USA conference in Orlando (November 2013). At that time we had already supplied the first units that had been successfully tested, and they provided the highest total pump efficiency available in the market in excess of 90%.
The SJT/SJM CWP are "engineered to order" single stage mixed flow vertical pumps, with semi-open impellers available in sizes starting from 750 mm (30") up to 1800 mm (72") nominal impeller diameter and for specific speeds (nq) between 90 to 155 (Ns 4639 to 7990). They are mainly designed as cooling water pumps for power applications but can also be used in the water market and other markets.
The semi-open impeller design offers best fitting, optimum efficiency and high suction capability. The state-of-the-art fabricated suction bell and bowl casing incorporating a unique swirl break ensure a stable pump performance curve from minimum flow to overflow. With a tailor-made bowl diameter, the performance curve can be adapted to the customer's needs. A fabricated column and segmented elbow reduces the friction losses and optimizes the pump efficiency. As it is available in all kinds of metallurgies, we can engineer the pump according to the customer's needs. By the optional full pull-out construction, lifting crane capacity is reduced and ensures an easy maintenance.
With the introduction of the innovative SJT/SJM CWP range we intend to support the development of the power generation market by reducing the investment and operational costs and shorten the lead time of the cooling water pumps.