Sulzer and Duechting in Partnership
Sulzer Pumps and Düchting Pumpen will debut their new partnership at POWER-GEN International exhibition on 10-12 December 2002 in Orlando, Florida. They are jointly marketing pumps of highly wear resistant SICcast®, an innovative silicon carbide and mineral composite, for flue gas desulphurization (FGD) applications.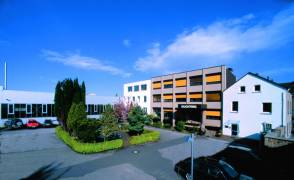 Düchting Pumpen
A co-operation agreement between Sulzer Pumps of Switzerland and Düchting Pumpen of Germany has been finalized for the joint marketing of centrifugal pumps made of an innovative material that is unusually resistant to erosion, corrosion and abrasion in flue gas desulpherization (FGD) applications. The material named SICcast®, is a silicon carbide and mineral composite that demonstrates an unusually high resistance to attack from chemicals and abrasives.
The agreement combines the resources of the two companies to service the needs of the FGD markets of North America and Asia-Pacific. Under the terms of the agreement, Düchting will design and engineer the bare pumps and Sulzer will assume responsibility for sales, contract management, and the after-sales services such as commissioning, field service and warranty.
FGD is required to ensure that coal-fired power stations conform to current and anticipated emission standards. Historically a major problem has been the effect of the abrasive and corrosive fluids created in the FGD process on the pumps and mechanical seals traditionally applied in these processes. Centrifugal pumps of the ROWA-MC series made of SICcast® and equipped with single-acting Dutec mechanical seals, overcome these problems. SICcast® mineral material has demonstrated in actual field operation that it far exceeds duplex stainless steels, high chrome white irons and other special metal alloys in its resistance to abrasive and chemical attack. The Dutec seal obviates the need for metal components in the pumping chamber.
Responding to requests from global customers, the agreement will provide a truly global coverage for FGD. Customers will benefit from the Sulzer-Düchting agreement through an improved geographic and technical affiliation, a broad product range, and a focused emphasis on value added designs, efficiency, on-time delivery and a high standard of global quality.
"Düchting Pumpen is pleased to have a partnership with a strong, globally operating pump company, a company that shares our philosophy of meeting or exceeding the requirements of our customers" Dr. Wolfgang Düchting, owner and C.E.O. Düchting Pumpen, Germany, Witten
"Teaming Sulzers' global presence with Düchtings' unique SICcast material technology provides an unbeatable combination for FGD plant operators." Thomas Gutzwiller, President and C.E.O. Sulzer Pumps, Winterthur Switzerland
About Düchting
Düchting Pumpen is a privately run, family business, which specializes in producing innovative metallic and non-metallic pumps for pumping abrasive, erosive and corrosive mediums normally associated with gas cleaning, FGD and waste incineration plants.
About Sulzer Pumps
Sulzer Pumps is one of the world's largest and most technologically advanced suppliers of pumps and service. Its products range from highly complex customized pumps for special applications to an extensive range of pre-engineered and standard pumps. Sulzer is a recognized leader in its served markets of oil and gas production, hydrocarbon processing, pulp and paper, power generation, water treatment and distribution, foods, metals and fertilizers.
Sulzer Pumps has a network of manufacturing and packaging facilities in 15 countries with sales offices, service centers and representatives in more than 150 countries around the world. A global leader in its selected markets, Sulzer Pumps generates an annual turnover of some 650 million Euros and employs 4700 people worldwide.
Sulzer, founded in 1834 in Winterthur, Switzerland, is a globally active corporation with businesses in pumps, surface coating technology, process technology, turbomachinery maintenance and fuel cell technology. Consolidated net sales for 2001 reached about 2,000 million Euros.