Successful German-Vietnamese Water Cooperation
More than 5 years ago, the project IWAS (Internationale WasserforschungsAllianz Sachsen) for water sector cooperation started. It was funded by the German Federal Ministry for Education and Research and executed by UFZ, TU Dresden and Dresden Sewerage and Drainage Company.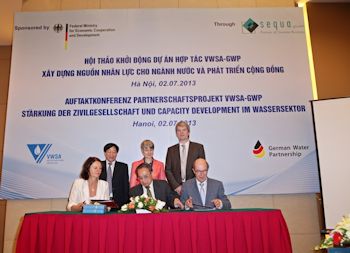 The project aimed and aims to support Vietnam in modernizing its water sector.
With a conference on 2 July 2013 at Hanoi, IWAS is successfully completed. At the same time, however, this event is the opening of the project DEVIWAS (German-Vietnamese Cooperation for the Competence DEvelopment of the VIetnamese WAter Sector), which is financed by the German Federal Ministry of Economic Development and Cooperation through Sequa, and is executed by GWP and the Vietnamese partner VWSA. Its objective is to further strengthen the Vietnamese association, to create a long-term mutual exchange of experiences, and to deepen and extend the offer of capacity development measures.
Insofar, DEVIWAS is a consequent continuation of the cooperation which has started during IWAS. From the beginning on, the experts of the GWP network, with TU Dresden being one of the members, have searched for a stable partner to collaborate with. And with VWSA, this has been accomplished. Already in 2010, an MoU was signed between both organizations, aiming to develop both e-learning modules and a master plan for technical sewage infrastructure provision in Long Bien. Both tasks have been completed by now and provide nationwide good examples for orientation.
Moreover the cooperation strongly builds on capacity development measures. Via member surveys that were handed out to both companies and administrative entities, topics of special interest for the Vietnamese water sector were identified. These include the handling of large-scale investments, such as waste water and digestion plants, the question of energy optimization, or cost calculation and pricing. Hence, among others, a guideline for cost calculation was developed in close cooperation. With regards to the success in Germany this will also play an important role in Vietnam. "The step into cost-covering tariffs based on a economically plausible calculation is key to a successful water management" say Gunda Röstel and Dieter Ernst, both board members of GWP.
Tran Quang Hung, permanent representative and General Secretary of VWSA agrees: "The companies need an assured financial foundation to manage the enormous investments of the upcoming years."
The Vietnamese government has recognized the challenges. In their 5-years planning, the infrastructural development within the water sector, and especially within the sewerage system, plays a decisive role. "Without modern technical infrastructure, cities like Hanoi, Saigon, Vung Tau or Da Lat are not conceivable", reckons Vice Minister Cao Lai Quang of the MoC, who has accompanied the cooperation between the German and Vietnamese Water Sector from the very beginning and with commitment and special favor.
He strongly supported the development of a concept to construct a water competence center, which will be subject to decision within the upcoming German-Vietnamese financial negotiations.
Picture: signing of the project agreement, (left to right): Gunda Röstel (Board Member GWP and Managing Director SEDD GmbH), Tran Quang Hung (Vice Chairman and General Secretary VWSA) and Dieter Ernst (Board Member GWP) in the presence of Cao Lai Quang (Vice Minister of MoC - Ministry of Construction and President VWSA), Jutta Frasch (Ambassador of the FR of Germany in Vietnam) and Roland Strohmeyer (Project Director Sequa) (Image: German Water Partnership)