SPX Flow Portable Pump Solutions: Offshore Workhorses for the Oil & Gas Industry
SPX Flow has a long history in supplying portable pump technology to the oil and gas industry. Some of its models have proved so successful and popular that they have been around (upgraded and improved) for almost 50 years and continue to be selected as reliable workhorses for the industry.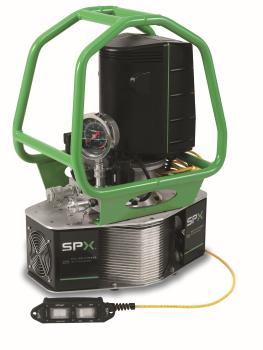 SPX Flow Portable Pump Solutions (Image source: SPX FLOW, Inc.)
Of course, technology has advanced over time, creating higher speeds for even greater efficiency, while maintaining high levels of performance and reliability.
From the SPX Flow Bolting Systems range, the PA60 (Air-Hydraulic) & PE45 (Electric-Hydraulic) Infinity Stage Pumps are designed to increase oil-flow to the tools and achieve bolting-activity faster and easier. This innovative design increases efficiency by providing continuous pressure at up to twice the speed of standard 2-stage pumps. Powering up to four separate tools simultaneously with an easily adjustable pressure regulator valve, the fixed 103 bar retract relief valve increases operational performance with enhanced safety.
Also from the Bolting Systems range, hydraulic 'P Series' hand pumps offer a robust solution with all metal construction that won't burn through in hot-work environments. They are designed for fast, easy operation using two speeds, to reduce handle strokes frequency and effort. The pumps are available in a range of models with features to match application needs, such as: increased oil volume for use with larger or longer stroke cylinders; link design to significantly reduce handle effort; strong lever for tough applications, and leak-free designs. All are fully serviceable and offer long, reliable performance.
Complementing its other tooling ranges, the wide range of standard models available meet most application needs. The high performance, potential for increased productivity, ease of use, and straightforward maintenance offered across the range, mean operators can look forward to low total cost of ownership and excellent return on investment.