Space-Saving Vertical Centrifugal Pumps
When liquids transfer applications demand a compact, economic and space-saving pump combined with a choice of suction and pressure connections, Combiflex vertical single-stage centrifugal pumps are the ideal solution.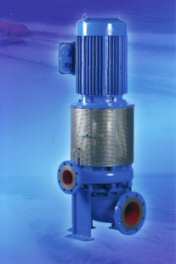 JP Pumps
Available from JP Pumps (a division of the SPX Process Equipment Operation), the Combiflex range of pumps are suitable for transferring thin, clean or slightly contaminated liquids.
Combiflex pumps, which offer maximum capacities to 1500 m3/h, heads up to 100 metres and maximum working pressure of 10 bar, are available in a choice of versions to suit various pumping applications. For example, the K1 and K3 models with spacer-coupling, have the benefit of the top pull-out principle, whereas the K2 and K4 versions have a shorter construction with a standard coupling. Direct mounting to wall or floor is possible.
Other features and benefits of these flexible, space-saving pumps include high pumping efficiency, robust design, a top pull-out principle for easy-maintenance and a very rigid shaft construction. Also, a motor mounting flange acts as an adjusting device for exact positioning and alignment of the electric motor while a coupling guard and protective elements between the lantern elements, provide the dual benefits of protecting the rotating parts and all the pumps' internal parts.
The suction bend design is a key feature of Combiflex pumps as it provides 8 different mounting positions as well as a very flat design with low-flow resistance. This design facilitates optimum flexibility, maximum space saving to ensure high pumping efficiency.
Typical applications for the pumps, which are available in cast iron or bronze, include transferring thin or clean liquids in general industry, tank storage or in marine and shipbuilding industries where their space-saving vertical construction is an important benefit in narrow, limited space machine rooms.