Significantly Better Efficiency: The New Nash 2BE5 Series
A vacuum level down to 100 mbar abs. and improved efficiency of up to 10%: with its new Nash 2BE5 series, Gardner Denver Nash is extending its competence in the market for liquid ring pumps with high gas flow rates.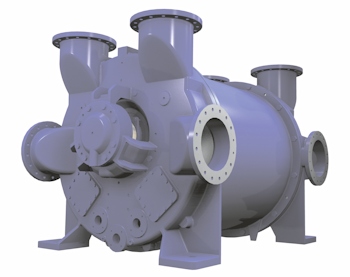 Vacuum down to 100 mbar abs. and significantly better efficiency: the new Nash 2BE5, an adaptable, high-capacity pump for a wide spectrum of applications. (Image:Gardner Denver Nash)
The Nash 2BE5 has been launched to build on the proven Nash 2BE4 series, further improving its already impressive performance. The development goal was to optimize and extend the performance the vacuum range below 300 mbar abs. The result: The new Nash 2BE5 series pumps are able to achieve vacuum levels down to 100 mbar abs.
This is made possible primarily by optimization of the gas flow. The patented gas scavenger provides increased vacuum capacity and, consequently, a significant improvement in terms of efficiency. Compared to the basic 2BE4 model, water consumption in the once-through mode has been reduced by up to 25%. Improved fluid self-recirculation eliminates the need for booster pumps, which in turn creates greater energy savings.
Service aspects were also taken into consideration during the 2BE5 development: Removable bearing brackets simplify on-site maintenance and help to reduce repair times. Rigidity is improved by bolt connections of the body and side shield, producing an optimum seal in compressor operation. Certification to ATEX is already in the pipeline, making this pump also suitable for use in potentially explosive atmospheres.
The Nash 2BE5 series can be used both as a vacuum pump and a compressor. For vacuum generation, suction capacities are between 2500 and 32000 m³/h, reaching down to 100 mbar abs of vacuum. When used as a compressor, they achieve between 3000 and 9500 m³/h with compression of up to 2.5 bar abs. In terms of their outer dimensions, footprint and port sizes, the Nash 2BE5 series is identical to the basic Nash 2BE4 model, making it simple to upgrade to a new, more efficient machine at any time.
The Nash 2BE5 series has been consistently developed in line with the wideranging requirements of the process industry. Two material options and a wide range of material combinations have made this an adaptable pump capable of addressing a wide spectrum of applications. The Nash 2BE5 is available in ductile iron and stainless steel, or a combination of these two materials. In ductile iron, the body is always supplied with a polyisoprene lining. This allows the series to be used in wide-ranging types of applications across many sectors of industry, including chemical process engineering, filtration applications, the pulp and paper industry, in power plants, refineries and many others.