Shaft Cover Made of DuPont Zytel Provides Cost-Efficient Safety
The Wilo-Crono glanded pumps, from Dortmund (Germany)-based pump manufacturer Wilo, are designed for long-term usage in the HVAC installations of industrial facilities, as well as larger-scale private and commercial properties.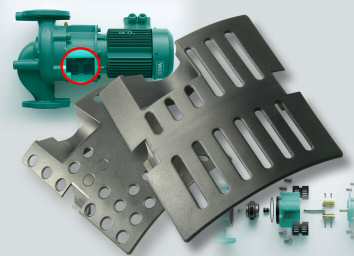 Photo: DuPont
Covers, made of heat-stabilized DuPont Zytel nylon resin, are fixed to the pump lanterns of the Wilo-Crono glanded pumps. They prevent accidental contact with the pump-coupling, thus reducing the risk of injury.
The service temperature of the medium to be pumped in such heating and cooling systems can range between –20 °C and 140 °C. Accordingly, Wilo selected the temperature -resistant DuPont Zytel 80G14AHS to protect the coupling of the pump lantern, which connects the drive motor to the pump's hydraulics.
"Polymer parts can be more economically manufactured and assembled than those made from perforated metal plates, which are typically used for such applications. Even without coating, they contribute to the aesthetic appeal of our Wilo-Crono pumps," says Detlev Jäkel, project engineer for glanded pumps at Wilo. "The glass-reinforced nylon 66 from DuPont combines excellent strength, elasticity and impact resistance – properties it retains over the long-term, and despite the demanding conditions presented by today's heating and cooling systems. A principle factor in our choice of material, is the option to prise off the protective cover made of Zytel 80G14AHS for maintenance purposes, and to press it back in without breaking the snap-fittings used to hold the cover securely in place – even after many years of use."
The manufacturer and co-developer of the covers, SMK-Energie¬technik of Groß-Umstadt (Germany), worked in close cooperation with Wilo and DuPont on material selection. "We produced the samples which DuPont used for comprehensive mechanical testing – later we optimized tooling and processing," says managing director Dr. Felix Schmitt. "This has helped us achieve very economical cycle times during the production of high-quality, accurately-fitting parts with a homogenous surface structure."