Screw Blower Technology Improves Efficiency and Energy Savings at SCA Mill's Waste Water Plant
SCA has improved the operating efficiency and energy use of the waste water treatment plant at its Oakenholt Mill as a result of installing energy-efficient ZS+ rotary screw blower technology from Atlas Copco.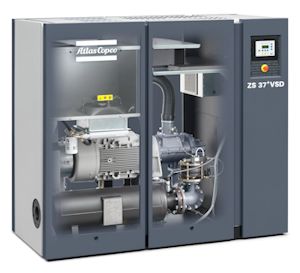 ZS 37+VSX rotary screw blower
SCA is a leading global hygiene and forest company that develops and produces personal care products, tissue and forest products. It is one of the world's largest producers of tissue items such as toilet tissue, kitchen rolls, facial tissues, handkerchiefs and napkins which are manufactured at 45 plants in a total of 18 countries across the world.
The company's Oakenholt site, based near Flint, North Wales, employs more than 70 people in the production of tissues and paper towels and in keeping with all of SCA's global operations, optimises all of its manufacturing processes and logistics through a programme of continuous improvement and investment in more efficient production plant.
When Area Engineering Leader, Paul Blundell, experienced reliability problems with the site's two existing lobe-type blowers, which were supplying aeration air to the waste water treatment plant, he saw that their replacement, with an Atlas Copco ZS+ screw technology blower with variable speed drive would present an opportunity not only to guarantee reliable performance but also save on energy use.
Many industries that use air blowers for their processes can benefit from the energy efficiency of rotary screw air blowers, especially those that operate wastewater treatment plants where aeration air blowers typically represent up to 70 percent of total electricity costs. In the treatment process, millions of bacteria feed on organic waste, breaking it up into carbon dioxide, nitrogen gas and water and, because the bacteria need oxygen, a large quantity of air is needed to be blown into the aeration tanks.
Atlas Copco's latest ZS+ range of oil-free, energy-saving positive displacement screw blowers is designed to meet today's low carbon economy needs, with ZS screw blower technology on average 30 percent more energy efficient, when compared to conventional lobe-type, low-pressure air solutions.
The blower installed by SCA is a technically superior ZS37+ VSD-800 dry, oil-free rotary screw displacement blower unit. This comprises a complete, fully integrated package based on a simple internal principle: precision timing gears maintain minute clearances between two intermeshing dry screw elements that never touch. No lubrication is required in the compression space and special seals stop any rotor bearing oil from entering the compression chamber. Intake air is compressed between the rotors and their housing and oil-free, pulsation-free air at a pressure of 800mbar is delivered at an output rate of between 284 -947m3h, dependent upon the requirement of the process.
In addition to the screw blower's inherent lower energy demand, SCA secured further energy savings by opting for the VSD version of the ZS+ blower. The integrated frequency converter varies the speed of the drive motor to match changes in the blower air demand, thus consuming only the minimum amount of energy and is capable of providing savings of up to 35% in energy costs. As an additional benefit, the ZS+ blower chosen by SCA was fitted with Atlas Copco's Elektronikon operating system which monitors overall system performance and is able to increase efficiency and reliability by directly controlling the blower's speed to the level of dissolved oxygen in the water.
Commenting on the solution Paul Blundell said: "SCA has a global sustainability target of reducing its CO2 emissions from fossil fuels and from purchased electricity and heating by 20% by 2020, with 2005 as reference year. The blower has exceeded expectations in terms of energy savings and has run almost continuously for a year at 30 – 50 % load. It is a complete 'plug in and go' solution that occupies a minimum amount of valuable equipment space within the plant. What's more, with Atlas Copco's AIRScan air network audit and survey system it has been possible to link the blower facility to the site's Building Management System. This allows condition and service requirements to be fed directly to Atlas Copco's service department either by mobile phone or via the internet."
Paul has also been very happy with new installation which has been running reliably 24/7 since day one: "The 5-year warranty also gave me great confidence in the product's reliability. I am currently recording the overall saving that this installation will achieve and I am considering replacing the remaining lobe-type blower with another ZS+ machine to run in a duty/standby configuration."