Saer to Exhibit at the SMM 2008
22.09.2008
Saer will exhibit its range of pumps and motor Oil and Gas Indusrty on the occasion of the SMM 2008 Hamburg Exibithion, to be held from 23th September to 26th September.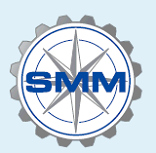 Saer
The stand number is 124 in Hall A2.
With regard to the Pump Marine Division Saer will show its latest innovation: submersibel pumps, submersible motors and centrifugal pumps fully made in SS AISI 316 EN 733. Saers s latest innovation in the field of motor is the Duplex steel construction which is resistant to aggressive water. This is state of
the art hidraulic with low operation cost.
Saer is going to attend the Aquatech Exibithion too, from September 30 to October 3, 2008 in Amsterdam. The stand number is 01.402.