Saer: New Factory in Holland
14.04.2008
On 28th March the Vice President of Saer Elettropompe, Mr. Mauro Favella, has inaugurated "Saer Pompen".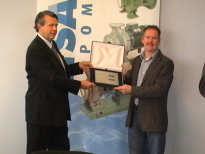 SAER ELETTROPOMPE S.p.A
The Company will take care of the distribution in Holland with an important stock to serve in the best way the Market, specially those of Industrial Pumps where high quality and short delivery time are decisive sucess factors in a market of heavy competition.
In this occasion we have also opened a new website www.saer.nl and we soonest it will be possible to buy online our products.
About Saer
SAER ELETTROPOMPE S.p.A. was established in 1951 by Carlo Favella that left the company as inheritance to their sons.
Thanks to the dedication of their owners, Saer can vaunt more than 50 years of experience in water technologies.
The range of products covers different applications and includes centrifugal pumps up to150HP, submersible pumps and submersible motors up to 400HP.
The main applications are in the civil, municipal, industrial, agricultural and domestic fields, for dreinage, in fire fighting systems and in air-conditioning and heating plants.
From year 2000, thanks to the realization of a new factory, the manufacturing systems have been completely renewed and reinforced.
Today the company operates in 3 modern manufacturing factories, one of them dedicated to the production of submersible motors, for a total surface of 100.000 square meters.
Saer products are exported in more than 90 Countries and its trade mark have been regularly deposited and registered all over the world.