Rubberized Impellers for Sludge Pumps
METAL-GUM has developed rubberized impellers for sludge pumps mainly used in the mining industry.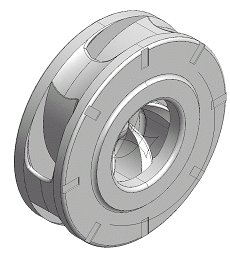 Rubberized Impeller made by METAL-GUM
Five years ago, the METAL-GUM company started designing and producing rubberized impellers for slurry pumps. It all got started with the idea to cooperate with the Polish copper mining and processing company KGHM Polska Miedż S.A. METAL-GUM took over the redesign of an impeller as a spare part for one of the slurry pumps. The result was an impeller which fulfilled customer requirements and the properties of which were superior to the previous model despite similar operating conditions.
These impellers are made of materials selected according to real working condition requirements. In most cases materials used to produce impellers are tested real working conditions which ensures effectiveness in continuous work. In addition, METAL-GUM designs and almost completely manufactures moulds and impeller production instruments which reduces production costs and product prices.
METAL-GUM has a certificate of the Quality Management System compatible with ISO 9001:2000, which covers any impeller production stage (design, purchases, production, quality inspection and shipment of goods).