Retro-Fit Mini-Drop System Proves to Be A Better Alternative To Submersible Mixers Problem
Many sewage sludge mixing applications have guide-rail mounted submersible mixers on the basis that they are easy to install and remove for maintenance. However these systems are vulnerable to failure usually due to rag-accumulation on their rotating parts which results in expensive repair or replacement.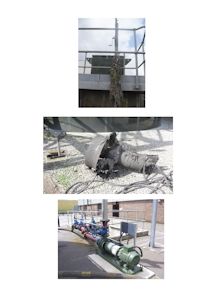 P&M Pumps
In many cases the increased weight from the solids becomes so severe that the lifting davits' safe working limits are exceeded obviously leading to possible safety implications and also compromising the downstream associated equipment and process.
System Mix Ltd and P&M Pumps Ltd, the UK distributor of Vaughan Chopper Pumps have established a reputation for developing innovative pumped tank mixing systems with successful installations throughout the UK waste water industry. A number of Anglian Water sites at Clacton and Jaywick had the recently developed Mini-Drop retrofit mixing system installed into tanks without having to empty or clean them. They also utilised the existing guide rails and lifting equipment from the original submersible mixers which failed regularly with breakages and burn-outs due to heavy rag build up.