Renewable Solutions for Sunderland Schools Are Top of Their Class
Systems integrating biomass and solar with high efficiency HVAC components are delivering low carbon performance for two new schools in Sunderland built under the government's BSF (Building Schools for the Future) programme.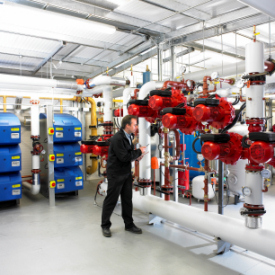 Armstrong
Sunderland City Council's BSF project is expected to revolutionise education in the area by introducing cutting edge technology to classrooms and creating 21st century buildings. In total the scheme involves the creation of three new academies and three new schools, to be designed and built by Balfour Beatty Construction (Northern) Limited.
Low carbon footprint is a key priority in the design of the new buildings. Balfour Beatty Engineering Services in collaboration with Leicestershire-based Rural Energy, incorporated biomass boilers and solar panels into the heating and hot water systems for the first two academies to be built under the project – Academy 360 (which replaces Pennywell School and Quarry View Primary School) and Red House Academy (which replaces Hylton Red House School). It was decided that off-site construction would be the best way to deliver the projects and Armstrong (a specialist in fully-integrated plant rooms) was approached to supply the energy centres for both academies.
At the heart of each energy centre is a 350 to 500kW biomass boiler, fuelled by wood pellets. Heat is also generated by solar panels. Armstrong variable speed booster sets and IVS pumps distribute hot and cold water supplies throughout each site. By utilising a number of high efficiency variable speed components, and by employing advanced controls technology, the system design ensures that energy efficiency performance will outperform standard school HVAC installations by a significant margin throughout the equipment's lifetime.
Each of the energy centres was constructed at Armstrong's purpose-designed factory in Halesowen, West Midlands , and housed in its own 18m x 8m plant room enclosure. On the date required within the overall project schedule, each energy centre was delivered to site fully-assembled and requiring only final connections. Off-site manufacture of each energy centre made it possible for construction to proceed concurrently with the rest of the project, and meant that assembly could continue regardless of the weather. Carrying out this part of the project away from the construction site, in a purpose-designed factory, also reduced the health and safety risk.
From a design viewpoint, bringing together the different renewable and low carbon components within an integrated system gave greater potential to exploit the very different energy saving characteristics of each of the technologies.
Steve Cooper, Director of Renewables and Sustainability for Armstrong worldwide, said, "With the advent of renewable technologies alongside more traditional low carbon technologies, off-site construction is really the only way to go. The demanding requirements of a project such as Building Schools for the Future necessitates full integration of all system components to provide system-wide efficiency. Off-site construction is key to achieve these levels of performance."