Refrigerant Pump with Canned Motor
Sero PumpSystems GmbH, German pump manufacturer headquartered in Meckesheim near Heidelberg announces a recent addition to its high head pump range, specifically designed to meet the "zero emission" challenge in industrial refrigeration technology.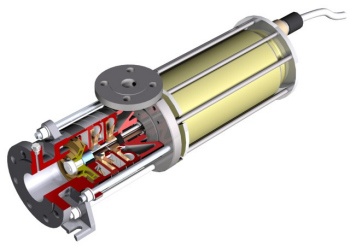 Refrigerant Pump SEMIS (Image: SERO PumpSystems)
The new Semis model combines in a unique manner the advantages of the side channel pump, which is today the prefered technology for liquid gas applications, with the features and benefits of the canned motor. As a result the Semis is absolutely leak-free and maintenance-free which means: service friendliness, long life and functional safety.
The extremely low NPSH requirements (NPSHr) allow for optimal exploitation of the specific enthalpy (heat contents) as provided with the corresponding refrigerant.
Another design feature of the Semis refrigerant pumps is their ability to reliably handle gas entrainments up to 50% vol which means increased operational safety even with alternating process conditions.
The very compact pump units deliver high differential pressures (up to 23 bar at density 1 g/cm³) at low flows and they are the ideal choice for all currently used organic refrigerants (hydrocarbons R-11, R-22, R-134a or R-410A) as well as for inorganic refrigerants (Ammonia or CO2) and also for lithium bromide solutions or silicone oils.
Characteristics:
Flows: 0,3-5 m³/h
Max. heads: 230 mlc
Nominal pressure: 25 (40) bar
Temp.: -50 up to + 100 °C
Key benefits:
Entrained gas capability ( up to 50% permanent)
Low NPSH requirements ( below 0,5 m)
Low flow with high head generation
Absolutely tight: zero leakage and emissions
With this latest SERO program extension pump users may now choose from a well-sorted range of products for a variety of industrial applications covering all sealing options from simple stuffing box packing over mechanical seal and mag drive design to a canned motor system.